Have A Wild & Wacky Time At The Hokitika Wild Foods Festival 2012

16 Dec 2011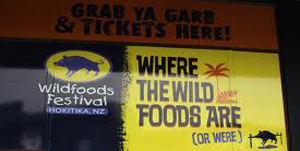 It is time for the most outrageous as well as imaginative food festival once again! Yes, I do mean the 'Hokitika Wild Foods Festival' destined to take place early next year.
The fun event had been initiated by Claire Bryant in 1990, a resident of the area, who hit upon a unique idea of making the public aware of the local flavor as she came upon her wine cellar stocked with Rose Petal and Gorse Flower wines. There has been no looking back since then! The festival has become immensely popular attracting visitors from all across the globe, keen on participating in the non-stop festivities that revolve around healthy yet strange foods and entertainment.  
With this year's theme being, "Westland…Wild Foods...Wild Time" here is what you can look forward to:-
Festival Details
Date: 10th March, 2012
Time: 10 AM to 5:30 PM
Tickets: Available through the official Wildfoods website  or via the Westland Visitor I-site with the early bird offer being valid until 30th Dec 2011.
Venue: Cass Square on Weld Street, Hokitika, NZ
Restrictions: Open to All
Food: Wild or Weird?
The spectacular stalls and their weird food ideas grab the attention of the media, worldwide. An innovative and unique gastronomic experience is bound to be in the offing this year making you keen to take in the strange, wild taste associated with the 'Hokitika Wild Foods Festival'. Here is a list of foods that proved to be a hit in 2011.

 
·         Scorpions- both cooked and uncooked
·         Deep Fried Octopus
·         Chillies dipped in Chocolate
·         Seagull Eggs
·         Live Huhu grubs

 
But the protein shots prepared with the semen of stallions took the cake with eager visitors queuing up for it. The Westland Mayor, Maureen Pugh managed to brave it as well.
Other Attractions
The non-stop entertainment put up on two stages lures in the visitors too as do the many competitions which range from best dressed to the best photograph contest.
So don your best outfit and be prepared to sample the gastronomic oddities as you have the time of your life at the 'Hokitika Wild Foods Festival' this spring.
Image Credits- ustedible.wordpress.com,funcage.com , setnewzealand.blogspot.com
Video Credit: youtube.com
Have A Wild & Wacky Time At The Hokitika Wild Foods Festival 2012