US School Teacher Eats School Lunches To Know Better
12 Oct 2011
In 2010, Sarah Wu, then an elementary school teacher in Chicago, Illinois and a blogger, found out that kids at her school were throwing away the containers of sweet potatoes, a part of their school lunch, without even tasting a morsel of it. When she tried the sweet potatoes herself, she found out why. This was because the potatoes were pureed like baby food although they tasted better than baby food. However, this was not the only thing wrong with the American school lunches, as Wu found out to her dismay when she went undercover in 2010 for a year.
The Undercover Mission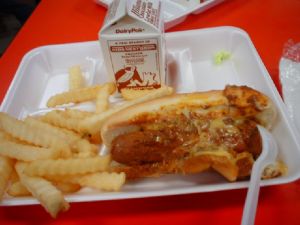 One day, Wu forgot to pack her lunch to school and decided to try one of the lunches at the school cafeteria. To her dismay, the food quality was bad, which led her to this anonymous campaign. Wu, an avid blogger who writes under the blog name, Mrs Q, blogged about her campaign throughout 2010, during which she ate school-lunch every day at a Chicago elementary school and documented her experience in her blog.
Mission Uncovered
Wu revealed herself for the first time on ABC's Good Morning America. After coming out in public, Wu spoke about her experiences and conclusions from the year-long campaign, during which she ate the $3 school lunches served to the students, including bagel dogs, chicken tenders (like "squirts of chicken foam"), and yellowish meatloaf. Throughout this period, she continued to blog about her observations on the food and its effect on the students.
The Mission Chronicles
Speaking on national television and various news networks, Wu revealed that she would be chronicling her observations and its effect on the school-going children, who ate everyday at the school cafeteria, in her new book, Fed Up With Lunch, released recently.
The CNN Story
Discussing her motivation for the campaign at a CNN TV show, Wu said, "I think that by putting out the book, it has started the conversation. It's normalizing talking about school food among teachers. When I had discussions with co-workers, it was sort of like throw your hands up and 'What can you do?'" By way of normalizing the discussion, Wu says that when parents started coming up to her and saying that the 'food was bad,' that meant that the problem was being accepted at a conscious level in the public.
A Long Way To Go
While Wu doesn't fail in acknowledging that the schools are making efforts to improve the health quotient of the school lunches but she also admits that "there is a long way to go." On her part, she wants her book and the campaign to serve as a catalyst for change in school lunch quality throughout American schools.
Video Courtesy: thechart.blogs.cnn.com
Image Courtesy: frugal.families.com, grinningplanet.com 
US School Teacher Eats School Lunches To Know Better