Riding To Success In The Nom Nom Truck – Misa Chien & Jennifer Green
12 Oct 2011
Nom Nom Truck is a familiar sight across the landscape of Los Angeles and San Francisco, especially for people who are hungry for delicious Vietnamese-inspired dishes. This love affair of the American populace in LA and San Francisco started in 2009, when 23-year-old Misa Chien started the company with 27-year-old Jennifer Green. Since then, the company has grown without the help of outside funding and is currently managing 2 Nom Nom trucks in LA and one in San Francisco.
To know that during the settling years of this business, Chien used to even drive her own truck, is a testimony to the determination that the girls brought to their business and that is also, perhaps, the reason why the CNNMoney put them both on its list of Top 8 Next-gen female entrepreneurs, under the age of 25.
Buoyed by the accolades coming their way and a growing business, both Chien and Green are ready to take it to the next level, which, they don't fail to indicate, would see them getting mobile in ways other than the truck. Hear it from Chien, "In a male-dominated industry, you can still excel if you work really hard and follow your dreams."
The Constants in Life
The girls, both UCLA graduates, found the foodie scene in LA with a wide gap which they could fill with good quality Vietnamese cuisine. It had also to do with the fact that Green is born of Vietnamese decent but mostly, lack of any Vietnamese food joints, also played a role in the girls building the Nom Nom business around this Asian cuisine.
The family investments and personal savings worth $25,000, both Chien and Green rented their first truck, bought their raw material, and waited for their Twitter followers to make appearance at the first truck and get their business going.
The Twitter of Success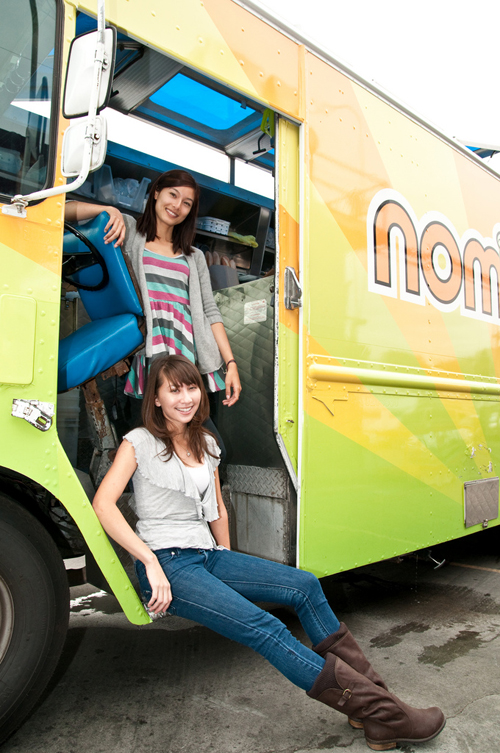 The girls first buzzed out their idea on Twitter to check how many people responded to the idea. To their delight, a lot of them warmed up to the idea of a truck selling Vietnamese food in their city and started to follow them on Twitter. When they started their business eventually, they were overwhelmed by the response, which was insane. Today, their Twitter following stands at more than 20,000 and they have about 13,000 fans on Facebook, to whom they send out advance information about the location of their Food Trucks.
Why Banh Mi
These Vietnamese sandwiches, made with French bread, grilled meat, pickled carrots, cucumber, and cilantro, are  served at the Nom Nom trucks. When asked that why did they choose to stick to this sandwich only, Chien replies that when they started in the business, there was a huge market for Banh Mi. She says, "It wasn't readily available west of the 110 (freeway) and there were literally no Banh Mi shops around. So we though of bringing a product into an unsaturated market..."
The Nom Nom Movement 
The girls run two trucks in the LA, which they call "Nominator" and "Nomacita," and both serve lunches and dinners to about 800 people daily, Monday to Saturday. Chien calls her business an "entire Nom Nom movement" as she further explains the nomenclature that she has associated with her business, like her customers, whom she calls "Nomsters" and anything awesome is called "Nomworthy" here.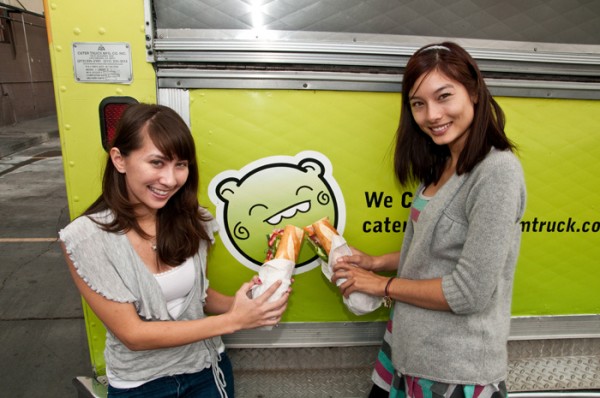 The Great Food Truck Race
In April 2010, something happened which provided the Nom Nom trucks even more space in public memory and it was the two-month reality show "The Great Food Truck Race." The show took Chien and Green across America and Nom Nom became a known brand. Says Chien of her experience on the show, "It felt good to know our brand and food resonated across so many different demographics." Since the show ended, the business has seen definite increase, with the girls reaching a point where they found it hard to keep up with the growing demand. Their growing popularity is evident from a recent incident where one of the business owners at the Hulu building, where the trucks were parked, was unhappy because of all the food trucks and to get even he turned the sprinklers on the people standing in front of those trucks. However, the dedicated "Nomsters" overstepped the sprinklers and continued to purchase food from the truck.
Crushes, Love And Stalking
While most of the people are usually asking for their autographs or photos, there are some who do not mind declaring their undying love or even stalking the girls and their trucks around, albeit mildly. Above all this, Misa Chien and Jennifer Green are busy serving their customers while keeping an eye on the road ahead in their Nom Nom Truck.
Image Courtesy: talk.onevietnam.org, dopecouture.com, beautyandthefeastblog.com 
Riding To Success In The Nom Nom Truck – Misa Chien & Jennifer Green