Hooters And Twin Peaks Are In A Titillating Battle In Court!
3 Oct 2011
The American restaurant chains, Hooters and Twin Peaks are in a titillating battle in court. In Georgia Federal court last week, Hooters sued the partner of Twins Peaks and an ex-Hooters employee, charging with the offense of fleecing the Hooters trade secrets.
The "delightfully tacky yet unrefined" Hooters restaurant chain claimed that Joseph Hummel, former Hooters vice president, changed sides to develop the similarly themed Twin Peaks restaurants by stealing some very sensitive information. In the lawsuit, Hooters have accused Hummel of downloading and emailing a 'large chunk of Hooters documents' (plans related to management, recruitment, distribution and sales) to his private mail id; just a few weeks before his migration to Twin Peaks development partner La Cima Restaurants.
The Hooters restaurant chain has about 400 branches all around the USA, where as the Twin Peaks restaurant has only 15 branches in 5 states as of now. In an earlier issued statement by the Twin Peaks management, they are all set to open 35 more franchises. It is true that there are many similarities between Twin Peaks and Hooters; namely, chicken wings in the fryer, Ultimate Fighting Championship fights on the big screen, and obviously the skimpily clothed all female waitstaff. Regardless of how big or small these two are; their battle in the court is all set to be real nasty.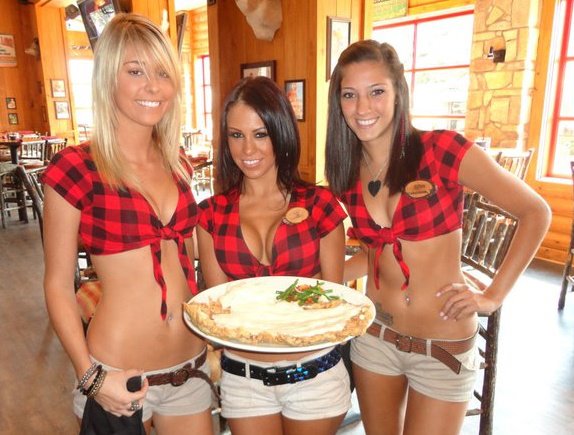 In the presently warring lawsuit, Hooters are arguing that their "iconic" Hooters Girls are the "cornerstone of the [Hooters] concept," and say that "Twin Peaks directly competes with [Hooters] in the market of casual dining restaurants with an all female waitstaff." In an recent statement issued to the Atlanta Business Chronicle, Joseph Hummel stated that Twin Peaks will launch 7 franchises in the Atlanta area alone in the coming seven years. He also said that Twin Peaks will set itself apart from its competition by bringing "a different feel, a different makeup of food." It is to be noted that Hooters and Twin Peaks are both headquartered in Atlanta, GA.
No matter how this court battle is going to turn out, the customers will have more food and eye candy from these two 'breastaurants'.
Image Courtesy: ethunter1.blogspot.com, facebook.com/twinpeaksaddison
Hooters And Twin Peaks Are In A Titillating Battle In Court!