Belmar Seafood Festival

10 Aug 2011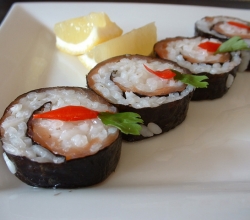 The Belmar Seafood Festival, also known as the New Jersey seafood festival unites a culinary celebration of seafood delights with a day of entertainment. The annual event occurs every year in June and will bring master chefs, fine artists and crafts' people along with musicians from around the state. The Belmar Seafood Festival has been named as one of the top 100 events in North America. Roughly 150,000 visitors attended last year's festival.  
Special Attraction
The Belmar Seafood Festival focuses on Belmar's scenic oceanfront and lets people from around the State to try a quite an array of seafood specialties from their favorite restaurants including: Klein's Waterside Cafe, Jack Baker's Lobster Shanty and many others. Food presentations extend from the traditional shrimp, lobster and calamari, to the more unusual alligator sausage, sushi, conch fritters, and seafood paella.
Entertainment
While sampling all the appetizing food, guests can also take pleasure in a truly impressive lineup of musical performances all through the weekend. If you are attending with kids, you will be pleased to know that there is a Children's Fun Tent set up as well which is a big hit with the younger crowd. Here kids can participate in arts and crafts and demonstrations or be amused by storytellers and musicians. There will be a wine and beer garden and over 45 of the area's best restaurants and food vendors.  
Belmar is a gorgeous community exalted with small town charm, rustic beauty, and a rich community life with plenty of recreational activities enjoyed by visitors and residents alike. The Belmar Seafood Festival would provide a great excuse for an an ideal weekend getaway for you and your family. Belmar has a huge selection of accommodations ranging from weekly cottage rentals to motels and charming bed and breakfast inns. You can even choose to dock your boat at Belmar's marina.  
Location
Silver Lake Park

Ocean Avenue between 5th & 6th Avenues, Belmar, NJ
Transportation

A Festival Trolley, looping through Belmar, was a welcome addition to last year's seafood celebration and will again run this year continuously from 11:00 AM until 7:30 PM. 
Other Information
Admission is totally free so if you are a local, there's really no excuse to pass this event up. There are absolutely no pets allowed, on any day.  
Apart from the sumptuous seafood, you will really enjoy the Belmar seafood festival's location. Set against sandy white beaches; take a stroll along the marvelously landscaped boardwalk with incredible panoramic views of the Atlantic Ocean. Make sure you attend it if you get the opportunity.
Image credit -ifood.tv
Belmar Seafood Festival