Newport Seafood and Wine Festival - Information And Updates

3 Aug 2011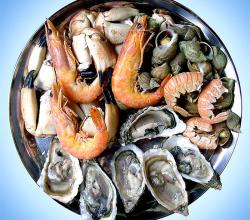 The Newport Seafood and Wine Festival takes place every year in the charming city of Newport on the Central Oregon Coast. Some of the regions supreme chefs and restaurants are represented as well as the best wines from all over the Northwest. It is an event that should not be missed. Newport is located approximately 2 hours from Portland. Hotel rooms can be easily and it would be recommended that you purchase e-tickets, as that line is typically much shorter and could save you quite a bit of time.
Dates
February 24, 25, and 26, 2012
(The festival occurs the last full weekend in February.) 
Location
The South Beach Marina Parking Lot, near the Rogue Ales Warehouse, 2320 OSU Drive, just south of downtown Newport. 
Festival Hours and Ticket Prices
Friday, Feb 24       2 pm - 9 pm;     Ticket Price - $10
Saturday, Feb 25   10 am - 6 pm;   Ticket Price - $15
Sunday, Feb 26      10 am - 4 pm    Ticket Price - $5
You will have to pay an additional amount for wine tasting. The wine sampling starts at $1 and you can refer to the menu price for glasses of wine. Bottles and cases of wine are sold by wineries as well.
Parking and Transportation
You can park at the festival site for $5 Parking is available at the festival site for $5.00.

Free shuttle buses will run on a standard schedule from downtown Newport and major hotels.

You can hire taxis for a small fee as well.
Activities
Enjoy brilliantly prepared seafood including the Dungeness crab that the Oregon Coast is well known for. Or perhaps oysters, muscles or clams are more your type. Whatever you like from the sea you will find it paired with wines from around the Oregon region.
There is an annual Commercial Wine Competition held as part of the Newport Seafood and Wine Festival. Since this is one of the earliest competitions in the year, it has been mentioned in the press as a significant preview of the better wines for the public to look out for in the coming year. Wines that do well in Newport do well at other competitions throughout the year. The festival participant must be from the states of Oregon and Washington only, to be eligible.
There will also be a marvelous arts and crafts sale. You will spot drawings, photography, watercolors, oils, pastels along with demonstrations by local artists.
With plenty of food and drink, Newport Seafood and Wine Festival is going to have something for everybody. 
Image credits - ifood.tv
Newport Seafood And Wine Festival - Information And Updates