Hampton Beach Seafood Festival - Information and Updates

3 Aug 2011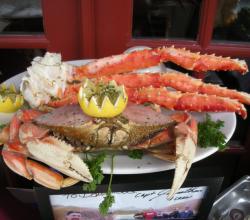 The 22nd annual Hampton Beach Seafood Festival is being held from September 9th to the 11th. Since it's conception in 1988, it's been voted one of the Top 100 Events in North America.  There are more than 55 premier restaurants, over 80 art and craft vendors, with live music, a beverage court, and fireworks. This grand event has a covered tent space of 39,000  square feet. You can find locally made products and various Ocean Boulevard merchants offering end-of-the-season sidewalk sales. This Hampton Beach Seafood Festival has become the biggest non-spectator event held in the state of New Hampshire. The three day event attracts numerous locals and tourists.
Location
Ocean Blvd

Hampton, NH 03842
Festival Hours
Friday: 4 - 9 PM / Saturday: 10 AM - 9 PM / Sunday: 10 AM - 6 PM
Friday September 9th, 2011
The first day will feature live entertainment, with bands playing rock and roll, jazz, and oldies. There will be an annual ribbon cutting ceremony as well at 7:30 pm.
Saturday, September 10, 2011
Don't miss out on the culinary chef demonstration which will start at 11 am. You can watch, sample and pick up free recipes. If you are with children, do take them across to kiddieland, where they will have jugglers, clowns, musicals, and story tellers. Kiddieland is open from 11:30 am to 6 pm. At noon the live entertainment starts up again, followed by a lobster roll eating competition and later in the evening a spectacular fireworks display.
Sunday, September 11, 2011
The agenda Sunday is almost the same as Saturday, so if you did miss out on any of the events the day before, today would be a good day to cover it. There will be the culinary chef demo, along with the live entertainment. There will be a sky diving extravaganza starting at 5 pm at Center Beach. Don't miss out on this show it truly will be magnificent.
All Day, Everyday
More than 50 of the Seacoast's top restaurants serving the world famous New England seafood. Lobsters, fried clams, shrimp, BBQ ribs, steak tips, "bloomin' onions," scrumptious desserts and a lot more,
Other than food, do take a look at all the handicrafts and art showcased by the vendors. These will all be locally made products and will be on sale as well!
Have fun at Hampton Beach Seafood Festival. It truly is a remarkable event and will promise a good time for your friends and family.
Image credit - ifood.tv
Hampton Beach Seafood Festival - Information And Updates