North Carolina Seafood Festival - Information And Updates

2 Aug 2011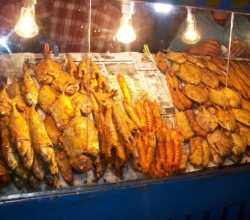 The North Carolina Seafood Festival is the state's second largest seafood fest. Founded in 1987, the Festival is known as Carteret County's foremost event.  This massive seafood festival is a three day celebration from September 30th to October 2nd, 2011. This event has done wonders for the state's economy and more than 2000 volunteers are needed to carry out this festival effortlessly.
Seafood being North Carolina's greatest resource, this event takes advantage of it to showcase all that they have. More than sixty nonprofit organizations can get an opportunity to help raise about $125,000 annually for their causes. Other than  seafood,  a plethora of educational exhibits is held for the kids and adults alike. Come with your appetites because there will also be a chef's tent that will be serving up free samples of scrumptious dishes.
Location
412 Evans St

Morehead City, NC 28557-4265, United States

Phone: (252) 726-6273
Parking
Free Parking is available at  the NC State Port with a free shuttle Saturday & Sunday only to and from the Festival grounds. The shuttles depart from the state port and carries festival-goers to 3rd Street. The timings of the shuttle are 9:30am – 8pm on Saturday and 11am – 5pm on Sunday.
Kids
If you have children along, there is an Island playground known as 'SasSea's Island' where kids can play and be entertained. Parents can find reprieve and families can enjoy quiet and peace of the waterfront atmosphere.
ENTERTAINMENT
SasSea's Stage

Entertainers perform throughout the festival on the SasSea's Stage located at 8th and Evans Streets.  Entertainment on this stage is targeted towards kids and families.  With local and regional entertainers, you can find music ranging from rock to the blues.

Clam Jam Stage
This event will have the more popular, well known entertainers performing, starting Friday night, all the way through till Sunday afternoon. This stage is located on 5th Street in the heart of the Festival. Past entertainers have included well renowned artists like Blake Shelton, Ryan Cabrera, Erica Jo, Brooke Hogan and Hulk Hogan, the Spinners and Tracy Byrd. This event is not to be missed.
Coastal Yesterday and Today

Entertainment Galore on The Coastal Stage features folk and "down east" music starting Friday night and running through Sunday afternoon.   Located on Shepard Street this event will have educational exhibits displaying traditions, craftsmanship and the way of life for a fisherman.  Fun entertainment activities for kids will also be provided.
Oyster Rock Stage

Located at the corner of Arendell and 6th Street, is truly for the dance and music lovers. With alcohol and music from all genres, you can dance the night away. Make sure you had some proof of ID.  
As you can clearly see, the North Carolina seafood festival has a little something for everybody. Make sure you don't miss it. There is plenty of lodging around the area so you can make this into a little family vacation as well.
North Carolina Seafood Festival - Information And Updates