Hyderabad Food Festival

25 Jul 2011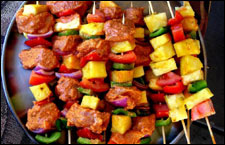 The most reputed and well-known Hyderabad Food Festival is also known as the Deccan festival. The spectacular show that is put up by the Department of Tourism, Andhra Pradesh Government, attracts people from all over the country and anyone failing to partake the mouth watering, sumptuous feast laid out at the food fair is bound to rue the loss.
The delectable food items are prepared according to the local traditions with distinct divisions. The food festival in Hyderabad not only helps you to savor the delicacies of the Nizam Gharana, it also helps you to understand how traditional Andhra food departs from its capital. It will definitely give you a high to experience the culinary tradition etched in history. However, it might just be a little difficult to taste every item on the menu. Feel content with a few choicest morsels and you are bound to sing paeans to the food and everything Hyderabadi. Let us  take a look at the items that are a must try.
Special  Dishes at Hyderabad Food Festival
Hyderabadi Biriyani- A fragrant dish made with basmati rice and goat's meat. The special condiments and spices along with subtle herbs make the dish a mouth watering fare which deviates quite a bit from its North Indian counterpart. Raita or a Dahi chutney made of yogurt is the traditional accompaniment and your trip is bound to be incomplete without a taste of this wonderous dish.

 
Mirch Ka Salan- Another special dish that is made by sautéing green chilies which are then cooked in a delicious peanut and coconut based curry. Tamarind pulp added to the dish helps to lessen the spice somewhat.

 
Baghare Baingan- A dish consisting of small roasted eggplants served with a thick yogurt-based gravy. Roasted mustard seeds and curry leaves lend this dish a special flavor that is unique to the region.
Taste of Andhra Cuisine at Hyderabad Food Festival
Borugu Undalu- A sweet  dish prepared by combining jowar (millet) and jiggery.

 
Vepudu- an assortment of crisp, deep fried vegetables that includes okra, eggplants and snake gourds.

 
Jonna Rotte- A leavened bread rolled out from sorghum dough.
An exotic land that offers exotic food! Visiting Hyderabad food festival will definitely reinforce this belief in you. So pack your bags and take off to the Indian City located in Deccan Plateau in February next year.
Image credit- fullhyderabad.com
Hyderabad Food Festival