2011 Asparagus Festival
19 Apr 2011
The humble asparagus was celebrated this weekend at the 2011 Annual  Stockton Asparagus 
Festival held from April 16 to April 17. 
Festival goers were treated to three days of entertainment on three different stages, including performances from multi-platinum band Smash Mouth  and American country band Little Texas. Velocity Circus, sponsored by University of the Pacific, performed a variety of acrobatic stunts. Sea Lion Encounters, Skyy Dogs and Tyson the Skateboarding Bulldog delighted audiences with animal antics.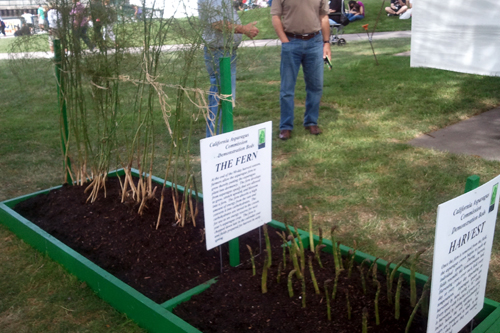 There was also a celebrity kitchen in the Civic Auditorium, where local chefs and companies presented their goods. Local vendors sold food and souvenirs from tents and stands.
There was even a display of the asparagus plant. It just looked like someone stuck a bunch of aspargus in soil, but that's really how this vegetable grows!
Of course, there was tons of asparagus! The Deep Fried Asparagus eating competition had already occurred by the time I arrived on Sunday, but I heard that it was as intense and competitive as ever.
My friends and I sampled a variety of asparagus cuisine, including deep fried asparagus sprinkled with parmesan, an aspara-burrito, asparagus steak sandwich and a chicken asparagus wrap! Who knew there were so many ways to enjoy these green spears? There was also asparagus ice cream, but unfortunately the supply ran out before we were able to purchase any. 
There was also a variety of your typical carnival food, including churros, funnel cake, smoothies and mangoes on a stick. Overall, it was a fun way to spend a Sunday with my friends under the beautiful California sun.  
For more information on the festival, visit AsparagusFest.com.
2011 Asparagus Festival