Helping Japan With One CupCake At A Time
24 Mar 2011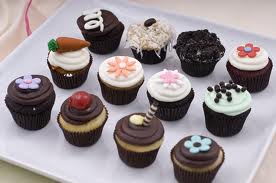 Helping Japan, the country in crises with three disasters tossing the whole country upside down, an earthquake followed by a tsunami, which  is followed by a threaten of the nuclear leakage, has devastated the whole country. Despite the fact that they were prepared for such devastations and the loss of life has been much less than what this actually should have been. Nevertheless, the survivors are in need of help to prevent the economy of the country from falling down into an economic crises, making things worse than better. What we can do to help Japan? Help Japan with a cupcake!
Yes, this is possible to help Japan with a cup cake.  This is what is happening in US bakeries, they are making some extra cupcakes for sales, in order to raise funds for helping Japan with a cupcake, and the money thus collected will be sent to those who are suffering in Japan following the aftermath of the disaster.
While there has been strong discouragement of eating your fullness to help others who are dependent on others for a morsel of bread. Ignoring them, many in the United States are making this as an opportunity to have cupcake family and friend gatherings for a high tea to enjoy the delicious and useful investment that they could make on this day for the cause of Japan.
While there are various unanswered questions, one being what is the percentage of the money that these bakers are planning to send to help those who are in Japan. While this is a welcoming idea, bakers can't send cupcakes to Japan, rather they could sell them for a benefit and the send the extra pennies made collectively into a huge amount, which is worth the money sent. Yet another question is that are they going to send to the right people like the Red Cross or World Vision? These are worth the money collected and send for the cause that you intend to help!
Meanwhile, what the American President has to say about helping Japan with a cupcake, he conveyed his condolences and called this is a heartbreaking natural disaster that should not happen in future.
Image Credits: foodgps.com
Helping Japan With One CupCake At A Time