UK's Cumberland Sausage Wins Protected Geographical Indication Status

22 Mar 2011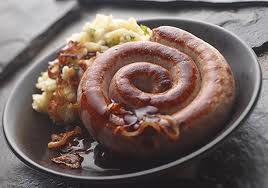 Cumberland sausage wins status of Protected Geographical Indication or PGI under European Union laws. Cumberland sausage makers are overjoyed of the recognition meted out to their product and protection from inaccurate imitations of other geographical areas. Thus under this protection, Cumberland sausages should have their origin in Cumbria. Delicious sausages if not made in Cumbria cannot be described and marketed as Cumberland sausages anymore. Cumbria finally can lay claim to Cumberland sausages and the protection was awarded by the food minister, Jim Paice. Jim Paice announced that by protecting the geographic origin of Cumberland sausages, people can now have guarantee of authenticity and heritage.
Cumberland Sausages


Cumberland sausage is a sausage that has its origin in Cumberland, England, currently a part of Cumbria. These sausages are very long, sometimes as long as 50 cm, and sold rolled in a coil. In Britain, they are found in smaller sizes, coated with breadcrumbs. Inside Cumbira, Cumberland sausages are served as long curved sausages. The sausages are chunky since the meat used is not minced but chopped. These are pork sausages seasoned with a variety of herbs and spiced and the flavor is peppery. There are no preservatives or flavorings added in these sausages.
Even though Cumberland sausage is considered to have a British origin, there are some people who believe that they were creations of German miners who worked in Britain during the 16th century. Cumberland sausages are believed to remind them of sausages that they got to eat back home.
PGI Status Privileges


By winning PGI status, Cumberland sausages are considered to be at par with other products under same protection like sherry, Parma ham, champagne, Roquefort cheese etc. These edible products have to come from the specific geographical location to be marketed under their specific trade names and be considered as an authentic product after being awarded protection under European law.
Some other foods from UK that have been granted PGI status include Cornish clotted cream, Stilton cheese and Melton Mowbray pork pies. There are foods like Yorshire puddings, Cornish pastries and Eccles cakes that have been denied protection since these dishes have very generic names and hence product cannot be identified with one single place.
Cumberland Sausages Specifics Under PGI Status


Sausages should have minimum 80 percent of meat content if they are to be known as Cumberland sausages. They should be processed and prepared in Cumbria and must be sold in a long coil along with seasoning.
Cumberland sausages are among the first sausages to win the status of PGI.
Image credit: justfoodnow.com 
UK's Cumberland Sausage Wins Protected Geographical Indication Status