Slow Food SF Event Part 2
60,000 peaople attended the first ever Slow Food Nation event to be held in San Francisco.  All wandered the Victory gardens, listened to various speakers, tasted of the bounty displayed by growers, talked about this exciting first for SF Bay Area, and bought veggies and fruits to take home.  I have been friends who so wanted to attend this amazing event and hopefully this is the first annual Slow Food Nation event in SF.
Be sure and read Part 1 at
http://www.ifood.tv/blog/slow_food_sf_event_part_1
 The day was truly amazing, a spectacular, but perhaps a bit too warm day.  The beautiful sunshine, enthusiastic crowds,  and a wonderful environment to talk to other foodies and others supporting a good, clean and fair food system.  Some of us serious evangilists of the theme Slow Food Nation. 
The Victory Garden which I featured in Part 1 (http://www.ifood.tv/blog/slow_food_sf_event_part_1) of this blog series will be kept until Dec 1.  Our mild weather allows for a year round growing season.  Be sure and atake a walk through the Victory Garden when you in the area of SF Civic Center.
Take Back the Tap: Food and Water Watch partnered with Low Food to offer tap water (instead of bottled water) was available at all of the venues.   It made everyone think about the dreadful waste and landfills of those empty discarded water bottles.  The "Take Back the Tap" stands at the Civic center were  a real  eye-opener as you gazed at the artfully strung emtpy water bottles overhead. They were selling re-usable stainless thermos type bottles for $13 (a discounted price). I for one bought this sleek stainless reusable water bottles.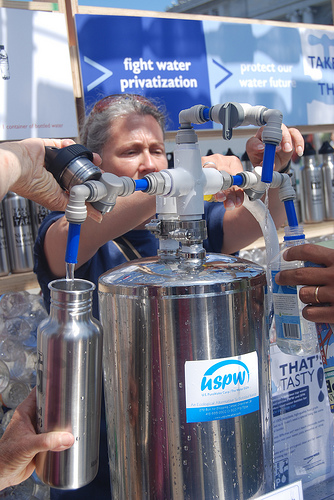 One of my favourite Foodie-writers  Michael Pollan called this event a true coming out party  for Slow Food U.S.A., a now 10-year-old group.   Slow Foods mission is to  link the pleasures of food with community and environmental activism.  The movement is alive and well in Italy and hopefully the California kick-off will make many Americans more aware of it's importance especially for our children and grandchildren.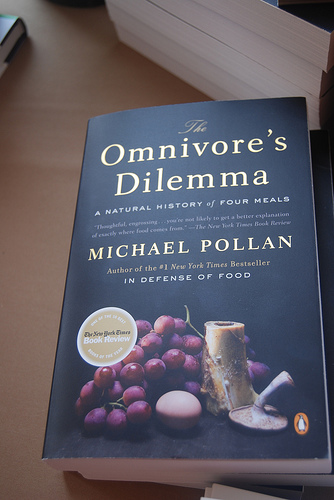 Two of Michael Pallan's books were available at the Point Reyes book shop.
I was a bit disappointed in the number of  vendors at the Civic Center arena as it was far less than can be seen regularily just down the way at the Ferry Building Market.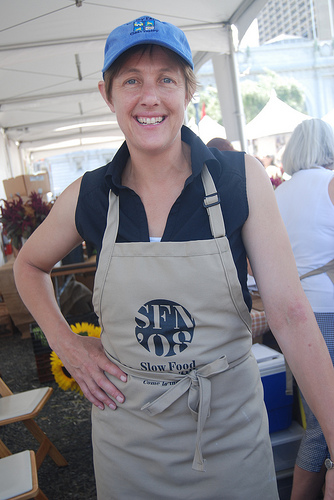 Each vendor was asked to display only one item, such as one of my favourites-edible flower adorned goat cheese from Harley Farms in Pescadero, 205 North Street.
Harley Farms produce amazing excellent quality cheeses from a fairly small herd of special goats-"cheese-makers".  There are about 125 goats!  They offer daily tours and the farm shop is open 11 a.m. to 5 p.m. 
Dee Harley was chosen farmer of the year 2007. 
Harley Farms came away with 5 awards in the North American Cheese fest. There were over 1100 cheeses entered from all over the US and Canada, little Harley Farms won:
First Place: Monet
First Place: Fromage Blanc
Third Place: Goat Feta
Third Place: Chevre in Oil
Third Place: Ricotta
To learn more of this delightful farm and their award winning goat cheese:Â 
http://smallfarms.typepad.com/small_farms/2007/06/dee_harley_farm.html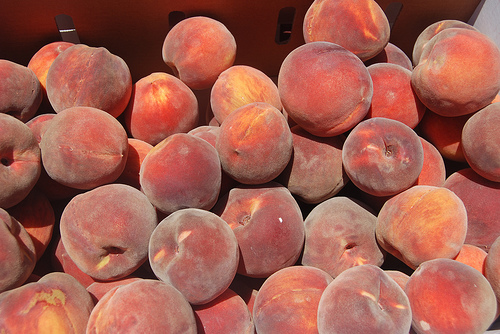 Frog Hollow Farm peaches is a familiar site to us.  They sell wonderful stone fruits at our local Danville and Walnut Creek Farmer's Markets, so it was a delight to see some familiar faces and fragrant peaches.
I was surprised at the so much higher price of their yummy peaches at this event compared to at the weekly farmer's markets. As they were limited to one product their very popular preserves and chutneys were missing from their booth.
http://www.froghollow.com/store/site/department.cfm?id=AA678FEA-3048-27D9-34E019AB43105819&killnav=1
and their mouth watering pastries
http://www.froghollow.com/store/site/department.cfm?id=039A022D-3048-27D9-34677358EF66E3A3&killnav=1
Their cornucopia of fruits or sort of a fruit of the month club are fabulous
http://www.froghollow.com/store/site/department.cfm?id=96B13BC5-3048-27D9-34A8060456F9EDFC&killnav=1
Hungry yet?
 
Slow Food SF Event Part 2