Top 10 Paris Bistrots For Those On Budget

15 Feb 2011
Paris bistrots are very well known for offering creative and connoisseur food at very reasonable prices. There are a numbe of bistrots which will offer you exclusive French dishes at inexpensive rates. While the evenings can prove to be expensive, you can get a great lunch at reasonable rates at these Paris bistros.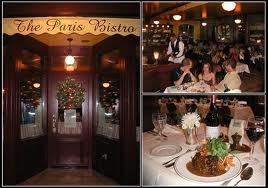 Have a look at some of the top Paris bistrots that offer you some really good tasting good at affordable costs.
1. L'Ebauchoir
L'Ebauchoir is one the most recent bistrots to open up in the trendy Quartier d'Aligre region of Paris. One of the top Paris bistrots, L'Ebauchoir offers a delicious range of authentic traditional dishes including braised pork ribs, roast guinea fowl and the marvelous crème caramel. The excellent frescoes, friendly staff and dishes prepared by chef Thomas Dufour makes it one of the most inexpensive and exclusive bistrots.
2. La Boulangerie
Tasty cooking and romantic surroundings of La Boulangerie makes this place apt for a perfect romantic evening. The century old backery was taken over by Nidhsain brothers. Together with this, the dishes prepared by Hassan, makes this one of the top Paris bistrots ideal for lunch as well as dinner.
3. Les Dingues
Les Dingues is one of the bistrots that offers authentic Parisian cuisine. A very crowded place, this is one of those bistrots where you can find people all though the day. Pat Basille, the chef incorporates a large variety of nvel dishes in his tiny kitchen. The novel dishes with the inexpensively priced menu makes this one of the perfect bistrots of Paris for dinner and lunch alike.
4. Les Racines
If you want to enjoy your food in a relaxed atmosphere at a bistrot, then visit Les Racines. This is one of the top Paris bistrots that won the Paris Bistrots of the year award from Gilles Pudlowski. The price is not fixed, but if you want to enjoy a hearty meal at a bistrot, then this is the place.
5. Le Pre Verre
The hottest of the Paris bistrots, it is a much sought after location. Located on the Left Bank, the creative cuisine at reasonable cost of this top bistrot together with the excellent choices in wine makes this one of the ideal place for a fine dining.
6. Chez Gladines
One of the outstanding Paris bistrots, Chez Gladines offers 100% Basque cusiine. Large portions, reasonable pricing and eminent wine collection makes this place party perfect. If you love garden salads, then try the one available here.
7. Chez Germaine
Chez Germaine is one of the  Paris bistrots that offer traditional authentic French cuisine. The homemade terrines, the tasty grillades as well as the sinfully rich desserts make this a very popular choice among the top Paris bistrots.
8. Georgette
A no-menu Paris Bistrot, Georgette takes its name after its owner. The dishes are created from the seasonal vegetables and are really refreshing. Try the free range chicken, which is roasted and stuffed with reine des pres, a seasonal herb or the homemade pasta. This is one of the Paris bistrots that you can look forward to enjoy homemade Parisian cooking.
9. Vins des Pyrenees
Vins des Pyrenees, formerly a wine depot, is now one of the hottest Paris bistrots, which lies in a side street away from the seductive Marais of Paris. If you want to taste the real classic French terroir, then you need to hit this bistrot.
10. Un Zebre a Montmartre
Un Zebre a Montmartre is one of those Paris bistrots that offer you  light, yet funky dishes. The bistrot is open till 2 am and hence it is one of those bistrots you can drop in if you want a drink at the mid of the night.
If you are planning to venture out to these Paris Bistrots in summer, then do check if they are open. Most of the Paris bistrots remain closed during May and June. Enjoy and have a good time!
Source & Image Credit- theparis.net
Top 10 Paris Bistrots For Those On Budget