Greenpeace Releases Sustainability Ranking On Tuna Fish

8 Feb 2011
When the onus is on environment safety laying the ground rules for all practices effected by man, the sustainability ranking on tuna fish by Greenpeace Canada, emphasizes the need to abide by its mission of peace and safety in the environment.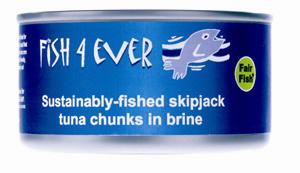 Greenpeace International, an NGO, headquartered in the Netherlands, with its presence spread across 40 different countries in the world, is an embodied voice of  environment concerns and safety issues.
As an initiative towards this mission, the sustainability ranking on tuna fish contests the sustainability and equitability of tuna sourcing. Most of the tuna fisheries around the world resort to fishing techniques, which pose a hazard to the environment and human health.
The canned tuna, which is a popular in many Canadian homes, is not what its label boasts of. The indiscriminate fishing of tuna  has caused major disturbance in the oceanic ecosystem harming the lives of oceanic life, which include turtles, sharks and sea birds and if consumers were to look beyond the branded labels of canned tuna, they would surely not be willing to compromise on a larger life, which plays a crucial role to sustain the environment that they live in.
As Greenpeace releases its ranking on Tuna fish, with a passing grade of 65.1 percent to Wild planet foods and Raincoast trading with 50 percent, others known to be brands of repute are far behind the line. The criteria for the sustainability ranking on tuna fish include the specifics for quality fishing gear, abiding by coastal state-owned operations and the elucidative labeling offered to the consumers. The other companies, who were rated 40 percent or below, were deficit of the standards required for sourcing practices.
The popular brands of the product, which were more of a household name in Canada, including  Metro, Sobeys, Loblaw, and Walmart – were given a sustainability ranking on tuna - from the fourth to the seventh place, in that order. Close on its heels is the Gold Seal at the eighth place.
The Overwaitea Food Group, which was ranked first in the Greenpeace's ranking report for the year 2010, slid to the ninth position. This is because that despite the sustainability and equitability practices projected in the company's portfolio, some seafood  products marketed by them raise environmental concerns. Edging close is Safeway at the tenth place.
And, National brand Clover leaf fell in the 11th place as the company needs to exhibit a greater deal of transparency on the contents of their tuna can to both its consumers and Greenpeace. The company, which got the last place in  the Sustainability ranking on tuna fish, was Unico as there was no exercise towards sustainability and equitability of tuna fish as surveyed by the Greenpeace.
There is a wave of murmur as industry representatives are scheduled to meet at the annual seafood summit in Vancouver, British Columbia, as those brands fishing in troubled waters are bound to be questioned about the sustainability ranking on tuna fish.

      

Photo courtesy : organico.co.uk
Greenpeace Releases Sustainability Ranking On Tuna Fish