Harvey Nichols Bans Foie Gras For Roger Moore
3 Feb 2011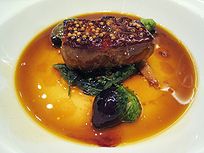 Renowned British departmental store Harvey Nichols Bans Foie Gras For Roger Moore after the legendary James Bond actor urged the store to remove the product from its restaurant menus.
Introduction: Foie gras, a popular delicacy in French cuisine, is made of liver of goose or duck, which has specially been fattened by force feeding fatty corn to the birds. It is considered as a protected cultural and gastronomical heritage of France and normally paired with steak. However, it has been subject to controversies for more than a decade.
Foie gras controversy: Animal rights groups like the Humane Society of the United States, Farm Sanctuary and People for the Ethical Treatment of Animals protest foie gras' production because of cruel and inhuman treatments used against the animals. The force feeding methods scratches animals' throat and esophagus and cause them wounds and irritation. The overfeeding also causes swollen liver, stretched abdomens, impaired liver function and sometimes even death. The New York State Government Affairs & Public Policy Dept came ahead for the first time in 2001 and sought a ban on foie gras production as it violated animal rights. Several other groups followed it in later years.
Harvey Nichols Bans Foie Gras For Roger Moore glads bonds hero: Roger Moore, 83, found it to be an extremely splendid news that Harvey Nichols agreed to ban foie gras following his appeal. The London store, which had removed the product from its shop last year, removed the product from its menu on New Year. Moore's appeal came as part of PETA's campaign under which it already convinced Oscar-winning actress Kate Winslet to voice against the food last April.
Moore's new targets: After Harvey Nichols Bans Foie Gras For Roger Moore, the 007 star vowed to target other renowned London stores and a small shop called Fortnum & Mason, which is apparently reluctant to keep the food off their menu. However, if you are still a fan of this food, click on this link to know more about foie gras.
Image Credit: en.wikipedia.org
Harvey Nichols Bans Foie Gras For Roger Moore