Meet 2 Female Butchers Who Work With A Sustainable Philosophy
26 Jan 2011
Two female butchers with an attitude and a sustainable philosophy are making interesting headlines. So let's meet two female butchers who work with a sustainable philosophy. They are Amelia Posada and Erika Nakamura also known as Lindy and Grundy who call themselves cleaver- wielding butcherettes.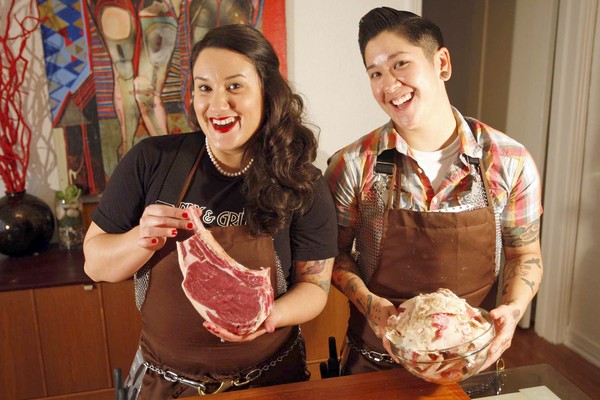 These two are household names among local foodies and they have already made a name for themselves though they haven't opened their store yet. The power of social networking caught up and helped them realize their dream.
Their dream is to open a butcher shop with locally sourced, pasture raised organic meat. In a male dominated industry these two women are planning to make a difference with a cleaver. Sometime in early February is when they plan to start their store.
They traveled cross-country from New York to California in August with the intention of opening a storefront. But succumbed to the idea of a butcher shop when they did not find 100% locally produced sustainable meat. Lindy and Grundy were active on social networking sites like Twitter and My Space to reach out and connect to other women butchers who were their moral support offering advice and suggestions.
28-yr-old Posada is a native of Pasadena abstained eating meat for 14 years. Nakamura is from Tokyo and stopped eating meat 7 years ago. They are both championing a fight against commercial farming with a sustainable philosophy on their hands.
So how did these two come together?  A drag show in Brooklyn brought them together where Posada was bartending. Nakamura and Posada exchanged their interests on social networking sites and have been together since.
Nakamura is a trained chef and was an observer at high end NY restaurant scene such as Blue Hill at Stone Barns. These female butchers apprenticed with Joshua and Jessica Applestone at Fleisher's meat in Kingston, NY for 8 months before moving west. Fleisher's was a good training period since the philosophy of sustainability was embraced by them too.
They wanted to carry on the message of sustainable butchering with them across the US. They plan to select their source from a few select California ranches, also have a mobile slaughter unit that will enable them to go to the farms instead of the animals coming to them. They are financed by family investors and personal loans.
Posada who studied journalism and interior decoration hopes to put her ideas together to make a place that will stand out with its window displays, subway tiled walls, floor-to-ceiling chicken wire glass window, a walk in cooler, a commercial smoker, designer meat rail with hooks and meat cases. In addition prepared foods from their family recipes will also be on display and sale.
The female butchers and their sustainable philosophy will be a force to reckon with, once they set up shop. So here's wishing the duo the very best in their endeavors.
Image Credit: Lindy and grundy
Meet 2 Female Butchers Who Work With A Sustainable Philosophy