Welcome To The Most Stressful Dinner Party In The World
26 Jan 2011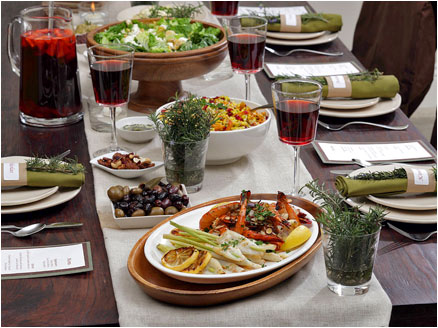 Ever wondered a dinner party could be stressful too? Welcome To The Most Stressful Dinner Party In The World!
Introduction: Dinner parties are generally not so stressful, but what make some of them stressful are lots of preparation and especially when it is organized for a guest like Chinese President Hu Jintao. White House hosted a state dinner during Hu's recent visit to Washington - an occasion where food had to look as delicious as its taste.
Everything should be perfect in state dinner: Former White House Executive Chef Walter Scheib admits that it is a daunting task to serve a good meal. Hosts always worry whether what they cooked and how they cooked would win their guests' appreciation. And it is altogether a different case when you are hosting a head of state on dinner. Everything has to be simply perfect, as the whole world will be watching what you are presenting to your state guest.
Good meal sets tone of foreign guest's visit: Serving a foreign guest in itself is a difficult task since it can displease your diner if you serve a piece of blue cheese to a Chinese statesman. "If one thing doesn't go right, it's not like a restaurant where you can give someone 10% off the bill and a free glass of champagne," says Scheib. Good meal actually sets the tone of an entire visit and bad one can even ruin your relations with the country. A bad meal can also highlight you in the national news especially when you are serving to the First Family. Gary Robinson's words are worth mentioning here: "A dinner is one of the times where leaders can kick back and relax a little but still have powerful discussions. If food can grease the wheels of that, that process is helped along."
Plan to avoid embarrassing incidents: Intense planning, however, is a must to avoid presenting bad meals and following embarrassments. In the first step of planning, the State Department sends the list of guest's possible culinary dislikes and anything that could create cultural insensitivity to the First Lady to ensure nothing offensive goes on the menu. The First Lady, then, selects the menu and gives away instructions on how to present it. The White House social secretary and the executive chef help her in deciding that. Before final approval, the plan is revised, tried and tested on several occasions.
Conclusion: This week's state dinner for Chinese leader Hu will be cooked under supervision of Scheib's successor and Executive Chef Cristeta Comerford. Author of Chinese cuisine books, Fuchsia Dunlop, said that the Chinese delegation could see a challenging meal during the dinner.
Image Credit: browneyedbaker
Welcome To The Most Stressful Dinner Party In The World