Patent for 'Tirupati Laddu'
This article is from The Times of India, Mumbai (8 June, 2008)Â Patent for Tirupati laddu
Tirupati: The sacred laddu 'prasadam', popularly known as 'Tirupati laddu' at the famous hill shrine of Lord Venkateswara at Tirumala near here, will soon get patent rights under the Geographical Indications of Goods (Registration and Protection) Act, temple sources said.
The Tirumala Tirupati Devasthanams (TTD), which manages the ancient hill temple, has applied for the patent and is awaiting the patent rights for the laddu, said sources. Due to the heavy demand for the heavily sought-after 'Tirupati laddus' here, some hawkers in the temple town have started minting money by preparing and selling laddus on their own premises and selling them to a large number of innocent devotees under the name of 'Tirupati laddus'. The practice has been flourishing for several years, they said, adding the TTD vigilance wing has conducted several raids to root out the business but in vain. Once the GI tag is granted, such violators can be booked, sources said. 
The Tirupati laddu was introduced at the hill temple some eight decades ago. It then weighed about 500 gram and was priced at one anna (six paise). In the 1960s, the weight was reduced to 180 grams and was sold it for Re 1. The price was hiked to Rs 4 in the 80s, Rs 10 in 1998 and Rs 25 in 2006.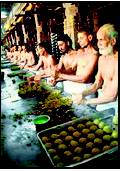 The Preparation of 'Laddu'. 
The Tirupati Temple. 
The Idol of Lord Venkateshwara.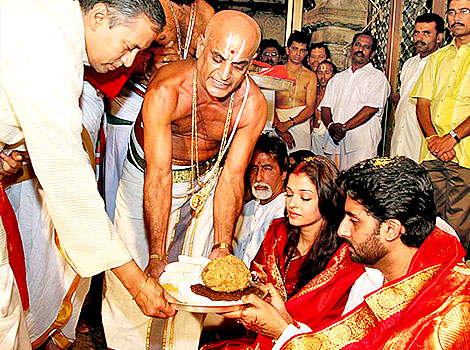 Amitabh, Abhishek and Aishwarya Rai Bachchan seek blessings at the temple.
Patent For 'Tirupati Laddu'