Colorado Inmates Catch Fish For Food
17 Jan 2011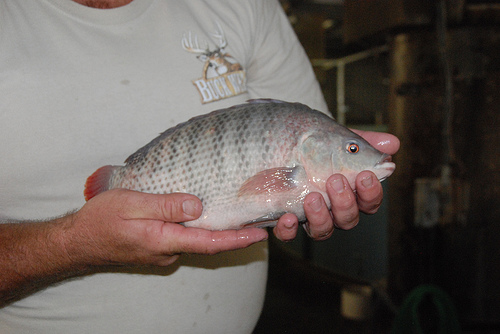 Colorado inmates catch fish for food. That's good. I mean instead of just being  locked away for at least 20 hours a day, rearing fish is any day better. No? I have heard of quite a few prison industries manufacturing this or that, but this is the first time I'm hearing about a prison that makes its inmates to catch fish for food. They are obviously not going fishing by the river, but they are breeding fish and selling fish fillets to the local market and for the other correctional facilities. Might sound fishy but all the fish allows the inmates to do something worthwhile.
The inmates of Colorado Correctional Industries facility in Canon City, breed koi fish, trout and tilapia. No, tilapia is not Tila Tequila; it is a breed of fresh water fish. The inmates feed them with soy pellets in large tanks built in a prison-industries fabrication shop. Then, they process them in a long assembly line in a large warehouse building inside the prison premises. And top it all, none of the fish or the fish entrails go to a waste. The Fish entrails and excreta are reprocessed into manure piles.Work is not easy; it is tough. Sometimes, the inmates have to work 12 hour shifts just to meet the quotas. And as much as challenging the job is, it is equally rewarding. When the fish processing teams meet or exceed certain quotas, they earn bonuses. I'm told that recently, the inmates earned a 30% an hour bonuses. Good for them.
It is a foolproof system but it is also a professional system built on trust. Sometimes a lone inmate does the graveyard shift in the greenhouse. On the hour of the job, he must sit before a video camera to confirm that he is still there. And if an inmate misbehaves or breaks any of the prison rules, he loses the opportunity to work in a fish breeding program. The correctional facility management thinks that this is a good method of teaching work ethics to inmates and that it would help them get an idea of fair play in th real world.
For some, fish is food. For the Colarado inmates, it is a new breath of life.
                                                                                                
Image courtesy: flickr.com
Colorado Inmates Catch Fish For Food