How One Man's Meat Is Another Man's Muse

11 Jan 2011
The 'Meat America' photograph exhibition at the Bambi Gallery is a show case of how one man's meat is another man's muse or rather art! Dominic Episcopo in the exhibition displays photographs that feature pictures that have been made of beef and other meats! His collection includes pictures of Elvis Presley, Abraham Lincoln, American states like Texas, New Jersey all in meat. While Florida was depicted using alligator meat, Alaska had Caribou meat representing it. The exhibition opens at Northern Liberties in Philly.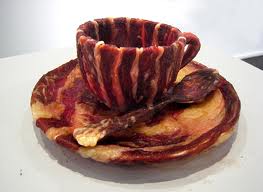 Butchering, sculpting and photographing various forms the meat was molded into was hard work and took almost two years for the work to be put together. This meat is another man's muse indeed. The meaty muse work continued and dozens of Philly based photographer's works are in exhibition at the show.
If it is any solace, almost all the meat that was used for the photographs and the remains were consumed by Episcopo, his wife, friends and family. Over the course of the months, the meat found its way into meatballs which were frozen. These frozen meatballs were served to hundreds of guests during the first birthday celebration of their son. The meat becomes muse with Episcopo's images appearing in the Bambi Gallery through January 30 at Piazza in Northern Liberties.
Image courtesy:eatmedaily.com
How One Man's Meat Is Another Man's Muse