Yebisu Beer Museum

29 Dec 2010
There is all rhyme and reason for beer lovers to gravitate to Japan-the land of the rising sun, to celebrate the dawn of New Year in the bearing of 'beer' spirits; for Yebisu beer museum beholds one and all; as a celebration of the vintage spirit, which has surpassed age and culture.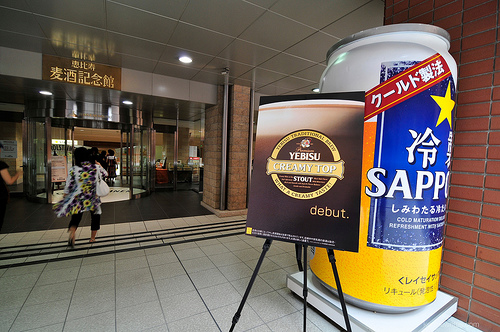 Situated in Yebisu garden place( a city within cities), which was built on the former site of  Sapporo's Tokyo brewery, the Yebisu beer museum  truly commemorates the history and art of brewing that evolved in Japan and the world as such.

So, if you have awakened your spirits to take a tour of the museum, your first step would take you down the memory lane with Yebisu memorial hall, featuring ancient brewing equipments, classic photos relating to beer history and vintage beer labels from the 1890s. The origin of Sapporo beer and its succession from the Nippon beer and Dai Nippon beer companies is also well illustrated on a large wall chart. The chart also highlights the end of Sapporo as a unit during the World War II, when the US army had established camps in the region. This, however, did not mean an end of beer production, as the brewery continued to supply for the army troops. The Yebisu beer museum also "sports" beer–labels with a punch of the war-spirit. For instance, some labels have  conditions of use  to the effect of " For Use Of Allied Forces Only" , "Please return all empty bottles" etc.

Down the trail of Yebisu beer museum is a gallery with advertising posters from yesteryears to the modern age. Alongside are television monitors with age-old commercials for Sapporo beer.  Then there are the exhibits of the brewery equipments that were in use during those times, with a detailed chart explaining the process of brewing, and the origin of beer, as the universal spirit of choice.

Once you are thoroughly satisfied with the classic Sapporo's lively spirits of that age and time, you could make a cross over to the present and allow your children to indulge a bit,  as the Yebisu beer museum also has a small theatre featuring a 3-D fairy tale on beer. The entertainment is not confined to kids alone as there is the Tasting lounge that will engage everyone from the young to the old.  Sapporo's limited edition of beers can be bought at a price of 400 yen for four sampler glasses. You might as well enjoy the precious rarity of Sapporo beers at the tasting lounge of Yebisu beer museum, which are not available in pubs outside. Kolsch, Weiss, Wizen, and ale are also available in the Sapporo avatar, not leaving out Guinness stout and Sapporo soft drinks.

The Yebisu beer museum remembers beer-history in a spirit, which can only invigorate any visitor to the museum to revisit the glorious past and come back with victory for the beer emblem.
Photo Courtesy : .kenleewrites.com
Yebisu Beer Museum