Meet The World's Largest Gummy Worm
27 Dec 2010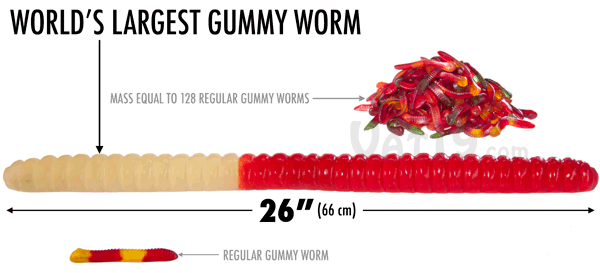 Meet the world's largest gummy worm which is 128 times bigger than the regular gummy worm. It is big and it weighs 3 pounds. No kidding! It also has 4000 empty calories. But would the fact that it contains 4000 calories going to stop people from buying it? I don't think so. On the contrary, people are going to buy it, just because it is the world's largest gummy worm. These chewy gummy worms come to you in many dual flavor combinations like pineapple and red cherry, lemon and orange, green apple and red cherry and yada, yada, yada. You can check out the flavors for yourself.
The candy business is no monkey business.  In America alone, the average per capita candy consumption is 25 pounds. Talk about how America's waistline is gradually increasing. To add to the long and literally never ending list of sweet things like chocolates, candy bars, toffees, fudge bars, jelly beans, praline, licorice chocolates, marshmallows, candied fruits, candied nuts, sour candies, gooey candies and yada, yada, yada; we now have the world's largest gummy worm. But, I think that these gigantic gummy worms would be the perfect candies to celebrate National Candy Day that falls on the 4th of November, every year.
One of these gummy worms will cost you just about $28 for that 16 inches fruity indulgence. It is thick too. I mean it is 5" in diameter. If you give me the world's largest gummy worm, I know that I will make it last for a month. Some people go on gummy worm eating challenges to see how many gummy worms they can eat in a stipulated time frame. But I wonder, how many of the world's largest gummy worms can they eat, if there was such a challenge. Till they feel sick perhaps. Let's not go there. Here ends the story of the world's largest gummy worm.
Image courtesy:shakespearessister.blogspot.com
PS. Too much candy and bad oral hygiene will rot your teeth.
Meet The World's Largest Gummy Worm