Best Chicken Dishes Of 2010 - Savor Them In The Coming Year

26 Dec 2010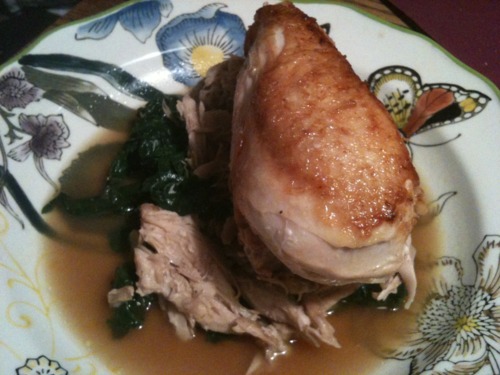 Fry them, bake them, cook them the way you desire. Here is a list of the best chicken dishes of 2010 - savour them in the coming year.
Pickle-Brined Chicken
You can use the leftover pickle juice to cook chicken with. Spread this evenly on the chicken and let it marinate for a while and then cook it in the oven,. You can serve it on top of super tender leg meat that is shredded.
Chicken Scarpariello
The chicken has to be sautéed in a tangy lemon glaze with some bell peppers. Cut a whole chicken into pieces, sautee it in a tangy lemon glaze and put in some bell peppers. This has to be cooked in the stove for a couple of hours. You can also opt for fast cooking methods and skip the bell peppers and replace with sweet spicy peppers and use chicken thigh.
Chicken Grilled Under a Brick
Chicken that is marinated overnight helps season it and when they are grilled under a brink, this gets the skin crisp.
Tea-Smoked Roast Chickens
This recipe makes the chicken very juicy and it doesn't matter how long you have cooked them. You can begin by sautéing them in anise scented tea to make them fragrant. If you want to cook just one chicken instead of two, use a pot rather than a roasting pan.
Chicken with Mesclun Salad and Passion Fruit Vinaigrette
The climate in Kenya is temperate and at the same time it is very tropical. That is why Kenya has a range of produce ranging from passion fruit, oranges, limes and greens. Squeeze a little of those wild aromatic limes into a marinade and use them on your bird - an organic way to cook them.
Crispy Buttermilk Fried Chicken
Everyone is obsessed with fried chicken, and a new way of making it is to use some butter milk that has been dipped in flour and beer batter.
Hot-and-Crunchy Chicken Cones
Fried chicken that is evenly coated with a mix of cornflakes, sesame seeds, almonds and then wrapped in mango-jalepeno is a big hit. Served by Chef Way Austin at The Mighty Cone food trailer, this is a dish a lot of people come back for.
Image Credit: shesfried.com/

 
Best Chicken Dishes Of 2010 - Savor Them In The Coming Year