Top Cake Trend 2010
25 Dec 2010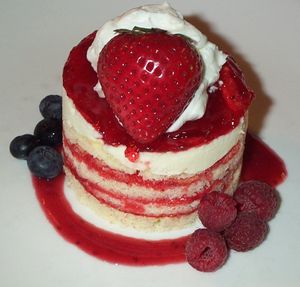 The top cake trend of 2010 was:
Funnel cake bites: You will enjoy these funnel cake bites layered with powdered sugar, crispy colored M&M milk chocolate candies, a dollop of hot fudge and topped with luscious-sweet strawberries. Don't you feel this exudes too much richness?
Spinning Globe Bar Mitzvah Cake: The spinning motor is the main attraction of the cake. The spinning motor helps to rotate the globe. Actually this cake gained popularity in 2009 but its craze scored new heights in 2010. This year also many couples decided to use it as their main wedding cake.
The boys name is inscribed under the globe in Old English font in gold and scripture passages from Genesis and an Adam and Eve scene adorns the globe. The 3D snake wrapped in vines spirals from the bottom.
Strawberry Short Cake  :   The Strawberry Short Cake is the one of most loved US desserts with lightly whipped cream and strawberries on the shortcake biscuit. It is served with a generous dollop of biscuit.
Coco Cola Cake: On hearing the name you may get an idea that the cake tastes like coco cola but that's not true the cake more tastes like a chocolate. In a sense we can say that it is a moist chocolate cake.
Blueberry Cake: This is not only one of the amazing cake trends of 2010, but also the good looking one too, with the sweet and soft berries adorning the scoop of vanilla ice cream. 
Image courtesy: http://3.bp.blogspot.com
Top Cake Trend 2010