Alaska's Tough Choice: Salmon Or Gold
8 Dec 2010
"Alaska's tough choice: salmon or gold" – with this controversial dilemma, the Alaskans' uncomplicated lives are not so simple anymore. Bristol Bay had been the world's most biologically productive habitats. But ever since foreign mining companies eyed this place and proposed to build one of the world's largest copper and gold mines, the Alaskans had lost their peace of mind.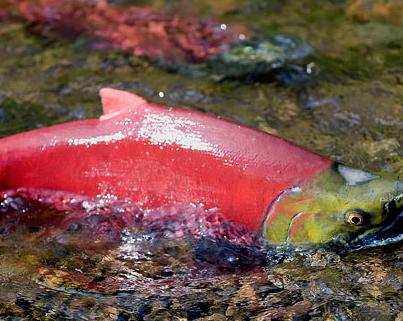 Bristol Bay is one of the world's rarest gems – a place where we see a perfect harmony of wildlife, fish and native culture. As such, fishing had been the main occupation of the native Alaskans for generations on end. Lives for the native Alaskans meant nothing but "fishing and living off the land". Under such circumstances, Pebble Mine, the controversial gold and copper mine project poses a real threat to the lives of the people and well as to the biological balance here. The huge mine would possibly bring a devastation of about 40000 square mile wetland – an area almost the size of Kentucky. It would also contaminate the fresh water streams and rivers, and affect the aquatic species like trout and salmon. Not just that, the project would also potentially make thousands of people lose their jobs - jobs associated integrally with this "450-million dollars per year almost heritage fishery".
Thus, for the Alaskans, saving the salmon is definitely a choice of priority – or the choice of necessity - not just for the nature's sake, but for their own benefit as well. Alaskans and other organizations that support them are not against mining or mining industries. All that they are trying to state is that Bristol Bay is not the right place. There are other appropriate places in Alaska for mineral development and setting up any mining project at those locations will never be objected to. But it is important to understand that the size, type and magnitude of the Pebble Mine project, and especially the location that they had currently chosen is too risky and threatening to be allowed.
Thus, be it the fishing industry, the tourism industry or the simple lives of the Alaskan fishermen, Pebble Mine would change everything – and in a negative way. With this awareness, a lot of organizations and companies have taken up the responsibility to educate others about the problem and to tell them how and why saving the salmon is important for the Alaskans and for the wider human race in general. Trout Unlimited, a non-profit organization talks about it, National Geographic's recent edition stresses on this problem and even Sarah Palin's recent movie deals with this controversial subject. One can only hope that with such emphasized focus on Alaska's recent problem opens the world's eyes. Otherwise, it would be a real pity to see the pristine wilderness of Alaska turning into a mere open-pit mine.
Photo Courtesy: kobreguide.com
Alaska's Tough Choice: Salmon Or Gold