New York Chefs Honored At Gastronomika
26 Nov 2010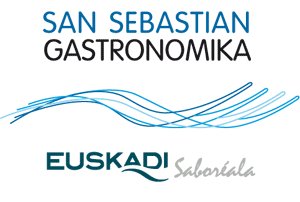 The period of 21st to 24th November, 2010 was the time for celebrating 12th San Sebastian Gastronomika Congress at Spain. And you must get surprised, when you go through the news headline - New York Chefs honored at Gastronomika. The program included a congregation of best chefs from all parts of the world and some of them are Italian chef Massimo Bottura from Osteria Francescana, Spanish chef Andoni Luis Aduriz from Mugaritz and a group of best chefs from USA. There were talks, slideshows, video-presentations on food related topics and off course great cuisines. The most surprizing thing of this event was - the New York chefs honored in cake form.
This year the main theme of the Gastronomika Congress was New York. So, everywhere there was a touch of New York. The chefs from New York City included Adam Perry Lang, Anthony Bourdain, Daniel Boulud, David Bouley, David Chang, Thomas Keller and Wylie Dufresne. There were several sessions of discussions to exchange ideas and learn about the uniqueness of the international cuisines. The whole program was arranged in the massive and gorgeous Kursaal Palace, in the capital of Gipuzkoa, San Sebastian.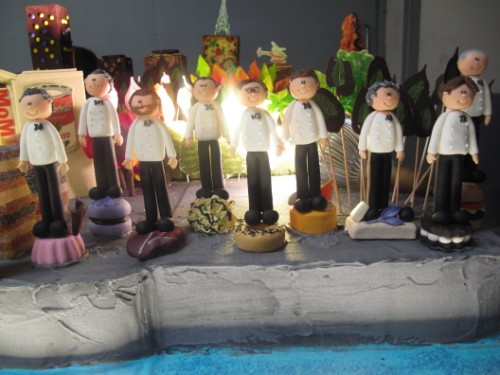 But, there is something more interesting about this event. To welcome the guest chefs from New York, a big surprise were waiting for them. The famous Basque patissiere, Christian Escriba, prepared complete replica of the city's famous landmark buildings out of chocolate and confection. There was the famous Empire State building and on top of that, was the King Kong. The chocolate sculptor also displayed another skyscraper in yellow color, named as Taxi. Other than these, there were many nitty-gritty details, to represent our beloved city of New York. But, on top of all, the most amazing thing was the small figurine of the attending New York chefs, made out of marzipan and fondant. The figurines were so impeccably done, that everyone could identify the chefs. However, the initials of the chefs were written on the body, to ease out the identification. Each of these little figurines was standing on a type of food item such as the figurine of Adam Perry Lang was standing on a piece of meat, the figurine of David Chang was standing on a bunch of noodles, the figurine of Daniel Boulud was standing on cheese and so on. It was really a hilarious experience for the city chefs and other attending members.
Image Courtesy: basquestage.com, eater.com
New York Chefs Honored At Gastronomika