Papa John's Fires Salvo At Domino's With Double Bacon Six Cheese Pizza

24 Nov 2010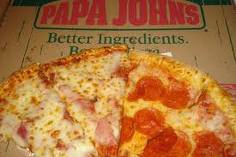 Papa John's fires salvo at Domino's with double bacon six cheese pizza, its very latest offering that is quite unique as far as the choice of toppings go.   It seems to be an apt way to get even with Domino's newest brand the Wisconsin 6 Cheese Pizza which was launched amongst much fanfare last month. However, Papa John's has gone one up when it comes to presenting facts. The Wisconsin Cheese version wasn't strictly true as only 33% of the entire cheese used had come from Wisconsin. Papa John's - Domino's Pizza war heats up the Fast Food rivalry even more with Papa John's remaining true to its claims of utilizing six different varieties of cheese for its latest brand. The double whammy topping consisting of hickory smoked bacon along with the Canadian bacon also leaves no room for doubt as far as the quantity is concerned.
But, bacon atop a pizza? Won't Michael Moss have a field day condemning it?  The representative of Papa John's begs to differ. He stands by the product claiming that it is time to introduce the ever popular bacon on top of the pizza. With the demand for pizzas reaching an all time high during Thanksgiving, there remains no doubt whatsoever that the Papa John's-Domino's Pizza war is definitely going to heat up the Fast Food arena now.
The war of pizzas has begun! With experimentations on each side fanning the Papa John's-Domino's Pizza war, the scenario can just witness a plethora of unheard of toppings in the form of chicken nuggets or cheeseburgers or even mini pizzas now. 
Image Courtesy: pizzawars.net 
Papa John's Fires Salvo At Domino's With Double Bacon Six Cheese Pizza