Mark Bittman Offers Top 10 Make-Ahead Dishes
17 Nov 2010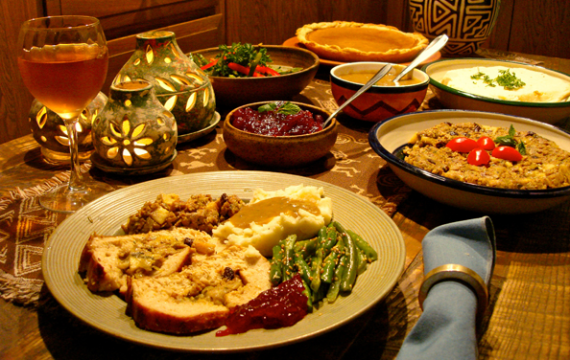 Mark Bittman offers top 10 make-ahead dishes for Eat Well's Vegetarian Thanksgiving.  Hope the recipe lovers who were eagerly awaiting Mark Bittman's usual feast of quick recipes, are not disappointed because he has shown them 101 simple ways of cooking Thanksgiving foods.  Mark Bittman says: "Note that they're almost all vegetarian. A few have bacon, or sausage, or prosciutto – or whatever. But my thinking was that you're eating a hulking turkey, so everything else might as well be veg. Besides, there's probably at least a semi vegetarian at nearly every Thanksgiving table at this point."  He says that most of these dishes can be served at room temperature and the soups can be reheated.

 
If you wish to host a vegetarian Thanksgiving dinner, then you can try out preparing these top 10 make-ahead dishes the Mark Bittman way.

 
Easy Potato Gratin
It's difficult to think of Thanksgiving without a tasty potato dish. You will be overwhelmed by this classic gratin, which bowls you with its simplicity.  Unlike other gratins you don't need onion, and cheese toppings to make this dish, only you need to drench potatoes with butter, and milk. You can add a dash of garlic for added flavor.  This enticing slab of potato gratin delivers you same gratification and content as the roasted or stewed meat, duck, and chicken savored during winter time.

 

Cranberry Truffles
It is generally noted that kids and elders both love cranberry truffles.  This simple truffle packs in richness of – sugar syrup, bourbon, dried cranberries, cocoa and walnuts.  This truffle can mark the sweet culmination of the meaty Thanksgiving weekend.

 

Chopped Spinach With Raisins
This is an additive blend of spinach and raisins, even you can add up pine nuts. It is prepared in olive oil and is generally served as a side dish.  You can enjoy it with a toast and top it with a poached egg.

 

Herbed Buttermilk Biscuits
It is simply great to have this biscuit for breakfast, or brunch. You just need to have handful of herbs and buttermilk to make this herb biscuit.

 

Steamed Edamame With Soy Honey Ginger Sauce
This simple nutty flavored dish packs: goodness of the soybean, honey and ginger. The sweet, nutty, pungent taste of its ingredients makes this dish worth trying.  

 

Zucchini and Potato Pancakes
For an added dose of crunchiness, you need to grate the potatoes and zucchini. These pancakes can be served at room temperature.  You can eat this pancake with traditional yogurt – mustard sauce and broccoli and roasted mushroom salad.

 

Roasted Caramelized Sweet Potatoes
With winter time around the corner, a celebration will be incomplete without a root vegetable.  The simplicity of this dish makes it worth trying. The roasting and caramelizing brings out best flavors within the potatoes.  

 

 Roasted Squash With Bulgur, Pine Nut and Currant Stuffing
Delicata squash is one of the tastier squashes with creamy pulp, which tastes a bit like sweet potatoes and bit like corn.  Bulgur wheat, pine nut, currant and cinnamon, enhances the flavor of the squash.

 

Apricot-Tomato Chutney
Roasted tomatoes taste good, but when teamed with apricots they taste amazing.You can team up this chutney with some steamed beans, or cauliflower.

 

Thai Squash Soup
This is a comforting, slow cooker recipe which derives its punch from  garlic, chili, coconut milk and squash.  You can serve it after adding cilantro, toasted chopped peanuts, and lime juice.
Here is wishing you all happy thanksgiving and merry holidays from ifood network. :)
Image courtesy: quarrygirl.com 
Mark Bittman Offers Top 10 Make-Ahead Dishes