Cameron Diaz's Fav Pizza Now Available In Mumbai
Are you the kind of celebrity fan who would do anything, even travel from city to city just so that you can be a part of their life in a minor way? Then, Mumbai is calling!! If you love Miley Cyrus or Cameron Diaz then you can at least be a part of their food eating habits by opting for their favorite pizzas. Yes!, Cameron Diaz's Fav Pizza Now Available In Mumbai at the California Pizza Kitchen that opened on the first of this month!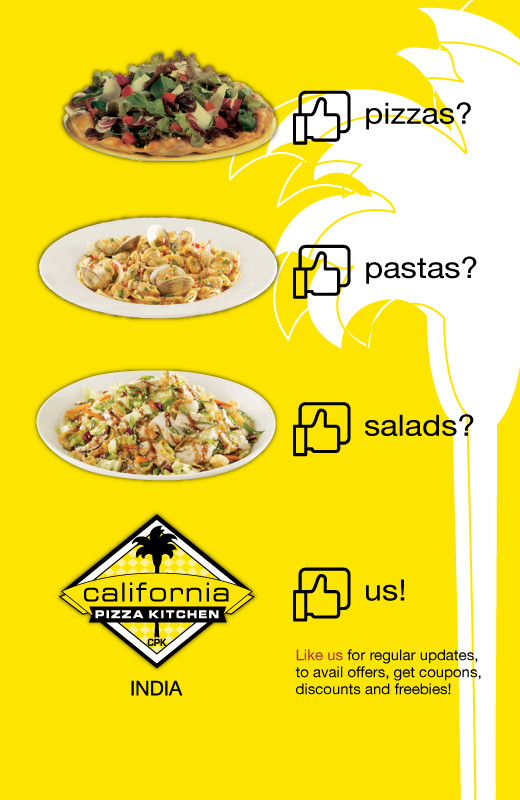 The CPK also offers the original BBQ Chicken Pizza along with other pizza, customized pastas, delightfully different salads, appetizers, soups, sandwiches and desserts! Internationally, CPK is very famous and extremely popular among Hollywood stars and even White House Dignitaries. I guess Obama might just find a home away from home in India especially since the American President just celebrated his daughters ninth birthday at the CPK outlet in Bethesda, Maryland!
The restaurant is situated on the ground floor of Maker Maxity, Bandra-Kurla Complex at Bandra and it will be a franchise of JSM Corporation. The JSM GGC restaurants, a newly launched franchise partnership company is a joint-venture between Mumbai-based JSM Corporation and Dubai-based Gourmet Gulf Company.  This is the same corporation that brought Hard Rock Cafe and Shiro to India and this time they have got us the very famous California pizza Kitchen that features in many celebrities twitter pages!
The CPK in Bandra, sits on almost 4,000 square-feet and can seat close to 150 people. They also have appealing and simple additional seating arranged on the covered outdoor patio. The interior of the restaurant is aesthetically decorated with warm, welcoming colors and rich, dense texture.  The menu is even more impressive and sports innovative and appetizing items like the Thai Crunch Salad, Tricolore Salad pizza, Kung Pao Spagetti and Garlic Cream Fettucine!  An open-exhibition allows the guests to watch their food being prepared and get tortured by temptation and sudden un-abatable hunger! The full bar at CPK also has an exciting beverage menu and serves drinks like Ultimate Margarita Original Recipe Mojitos and Martinis, and a range of wines!!!
Executive Director and co-founder of JSM GGC, Jay Singh, actually plans to open 15 more California Pizza Kitchen restaurants across the country!! Just hope and pray that one of the CPK restaurants will sprout up in your city too!! Meanwhile you can still get to Mumbai and enjoy their world famous pizzas!  Remember the restaurants will be open from Monday to Sunday from 12:00 p.m. to 1:00 a.m.  You can also follow CPK and its activities in India through the facebook homepage or the CPK India, Twitter page.
Image Credit
Cameron Diaz's Fav Pizza Now Available In Mumbai