Obama's Dinner Date With Indian PM

8 Nov 2010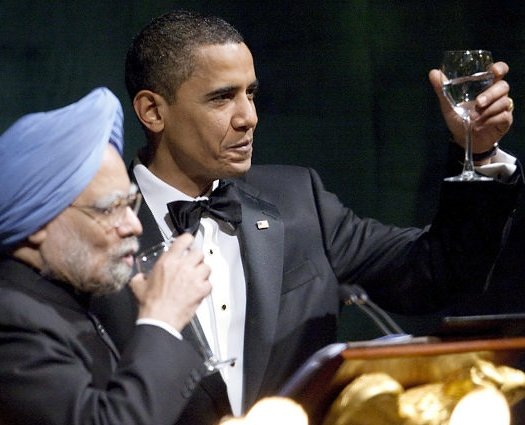 After spending a high spirited day in Mumbai, it was the eating time for the US President, Barack Obama in Delhi. The ITC Maurya, New Delhi gave a traditional welcome to Obama yesterday morning.
Barack Obama and First Lady Michelle Obama, who are currently on a visit to India, enjoyed the warm trademark welcome of ITC Maurya, New Delhi known as 'Brides of India', where two girls dressed up in Indian bridal finery welcomed the guests with traditional Indian shehnai music playing in background.
The ITC Chairman YC Deveshwar himself looked after all the eating arrangements for the US President. The Chairman made sure that the President and his team enjoy their stay in Maurya's banquet. According to sources, Obama was served with a myriad of mouth-watering dishes during his two days stay in Delhi.
ITC Maurya, New Delhi is widely known for the two popular restaurants named as DumPhukt and Bukhara. Following the tradition of designing special platter after guest's name, Bukhara's frontier menu also had a culinary platter named after the US's First African-American president, Barack Obama. Earlier in the year 2000, then US President Bill Clinton, First Lady Hillary Clinton and their daughter Chelsea were also presented with a similar kind of culinary platter named after them by ITC Maurya, New Delhi.
Apart from this hot platter, the dignitaries were also served various other Indian delicacies such as seekh kabab, murgh malai kabab, tandoori aloo, paneer tikka, dal bukhara, sikandari raan, mixed raita, tandoori jinga, kulfi and naan.
Obama's Dinner Date With Indian PM
To give a warm welcome to the US president on the behalf of the whole country, Indian Prime Minister Manmohan Singh hosted a private dinner at his Race Course residence yesterday night. With Indian music playing in the background by Indian Navy and BSF Camels Band, it was time for Obama's Dinner Date With Indian PM and some of the biggest names of India. 
Obama was chaired with Indian PM, his wife Gursharan Kaur, Michelle, Pranab Mukherjee, Sonia Gandhi and Rahul Gandhi on the center table. The strictly private dinner started with shorba and mulagatawny soups. After that, the dignitaries were served with main course, which had dishes like fish & green-chilly lamb, chingara jammu prongs, mughlai chicken, kakori kababs, dal dampukht, gobi, rice pulao and a wide range of Indian breads. Lastly, kesar phirni and mava poti was served as the mouth-watering desserts. The catering was done by ITC Maurya, the very same place where Obama is putting up in New Delhi.
The guests list for this private affair also had big names like Cabinet Ministers A K Antony, P Chidambaram, Sharad Pawar, senior BJP leader LK Advani, Arun Jaitley, US Ambassador to India Timothy J Roemer, business leaders Azim Premji, Ratan Tata, N R Narayanamurthy, Bollywood personalities Aamir Khan, Shabana Azmi, Javed Akthar and Chess wizard Viswanathan Anand.
Image Courtesy @  indango.com
Obama's Dinner Date With Indian PM