Now Carnivorous Cocktails For The Meat Lovers!

7 Nov 2010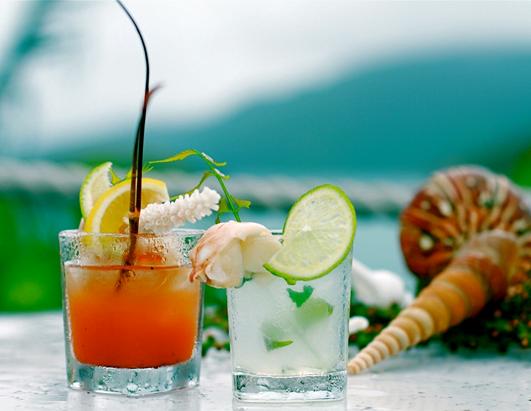 If you are bored of the same combos of drinks and food, and want something tantalizing to go with your favorite meat dish, take a breather, for a new genre of carnivorous cocktails for the meat lovers is bound to rock the stack of the classics.
The carnivorous cocktails came into being as the brainchild of beverage experts, to honor the National Sandwich Day. These cocktails are all set to satiate the savory, spicy appetite of your taste buds.

Of the carnivorous cocktails for the meat lovers, you have the -Cheese burger cocktail,   which is made in layers of beef stock reduction, mashed Roma tomatoes, fresh iceberg lettuce water and topped with cheddar frico(aged) and kosher dill pickle; PB&J cocktail where the rum-based cocktail has strawberry jam, peanut butter syrup and a banana and; the BLT cocktail is based in bacon-infused rum, tomato juice, horseradish and Worcestshire sauce. Apart from these, you have some innovative techniques employed by renowned mixologists to appease the meat lovers and their appetite for carnivorous cocktails. While bacon-infused spirit prepared by Seger(manager, Sommelier, Chicago Bar / Restaurant) the Baconello(bacon-infused vodka), is a popular brand in the new breed, he has also come out with ham and cheese cocktail to blend the taste of wine and food the perfect way.

Todd Thrasher's BLT is one meaty cocktail for the meat lovers, but the creative mixologist has also tried the use of foie grass and lamb, so that carnivorous cocktails spell variety in spice, texture and taste.

Another carnivorous cocktail stirring up, to make waves, is Alaska-based distillery's smoked salmon flavored vodka, which has also hit the markets, competing with the umami flavor of its bacon-counterpart.

The secret of preparing the vodka lies in the smoking of the salmon. Once the smoking process is through, the skin of the fish is peeled, the fillets removed and the chunks of fish meat is doused in ethyl alcohol. After straining and double filtering the rich essence obtained is mixed with vodka through a cold-infusion process.

The Alaska-based distillery gets all the ingredients for its ingenious preparations from their region of popularity- for instance its salmon fished out from the fresh waters of Alaska
What more is on the anvil in carnivorous cocktails for meat lovers?  You name it and you might even have it…who knows even a chicken cocktail conjured up by creativity and… a trendy, classic mixologist  all geared-up to serve a 'Meal-in-a-glass' drink differently!
Photo Courtesy :  cruise-addicts.com 
Now Carnivorous Cocktails For The Meat Lovers!