Salon du Chocolat - Paris Chocolate Show - The Sweetest Event Of The Town
6 Oct 2010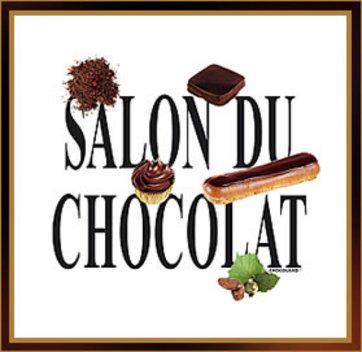 From October 28th to November 1st, 2010 the Romantic City of Paris will once again be the host to its very own Chocolate Show – Salon du Chocolat, a five-day extravaganza, the largest expo dedicated to chocolate, showcasing the best talents among chocolatiers and chocolate manufacturers of the world along with world renowned chefs, culinary experts, and several chocolate aficionados. This is not any trade show but the sweetest break from the daily hustle and bustle.
`
Salon du Chocolat, a Chocolate trade expo that began in the year 1994, has created a whole new level of buzz in its 16th edition here at Paris by launching the "Ethic and Choc" concept – a go green model to celebrate the official year of Biodiversity. As a part of this concept, the show aims to promote organic and sustainable chocolate farming, production, and fair trade. 
This event is not limited to just product showcasing by various participants but boasts of several vibrant and promising activities like chocolate tasting tours, performances by various master chefs and culinary artists, distinguished speaker series, recipe demonstrations, parades, gourmet celebrations, creative workshops…all in all a perfect chocolaty escape for all budding foodies!`
The following are the highlights of the events:
``
The Chocolate Fashion Show: This is undisputedly the most famous and sought after event at every edition of Salon du Chocolat – a parade of chocolate dresses adorned by the most famous models of Paris. With the "Ethic and Choc" theme this year, Europe's most famous chocolatiers and pastry chefs join hands with internationally renowned fashion designers to stage the most mouth watering and fanciful parade ever. The gowns that the models sashay in will be made of special edible chocolate that are blended with ingredients so that the gowns won't melt on the models' bodies. All this and more surely makes this parade the signature event of the expo.
`
World Chocolate Masters Competition with Barry Callebaut: The French selection of The World's Chocolate Masters will be help on 28th and 29th of October 2010 at the event venue. The winner will represent France in the internation final of the competition in Paris in October 2011.
`
Charles Proust Competition: The most renowned and well known completion among patissiers, chocolatiers, and ice cream makers will be help at Salon du Chocolat, theme this year being Valentine's Day.
Exhibitions: Famous artists like Deadlicious , Frederick Durantet, Chantal du Chouchet, and others present photo exhibitions, movies productions, cultural tours, etc. describing the various aspects and intricacies of chocolate.
`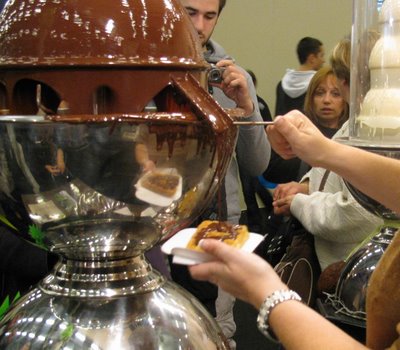 `
Japanese Day: In conjunction with the Japanese Embassy in France, Salon du Chocolat will host Japanese day on 30th October. Here a team of the best Chocolate artists from Tokyo, including Yoshinori Morie of Le Petit Verdot, Koji Tsutchiya of Théobroma, Sadaharu Aoki, Keiko Orihara of Monsieur Chocolat, Aoki Makoto among others will demonstrate their skills and exclusive recipes to all attending foodies.
`
Salon du Chocolat truly never ceases to amaze you. If the above mentioned events were not enough candy for your eyes, then the free for all chocolate fountains, statues, soufflés – all things chocolate, a treat for all senses, will surely take your heart. Chocoholics beware, for you will be allowed to indulge to your heart's content with the sensual treats of chocolate – white, milk, dark, sweet…whatever along with a generous flavor of nuts, fruits, liqueurs, and more.
So do join in the fun and chocolaty frolic at Porte De Versailles, Paris. To purchase tickets for this Chocolate extravaganza, follow the link given.
 Image Credits: legrandjournal.com, 4.bp.blogspot.com 
Salon Du Chocolat - Paris Chocolate Show - The Sweetest Event Of The Town