Top 10 Global Food Trends
30 Sep 2010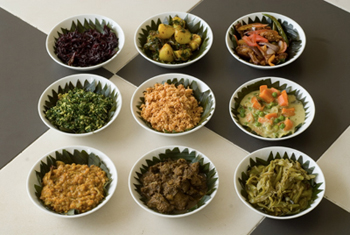 The global food trends are influenced by - "Fat Free", "Natural ", "Carb Free", conscious dieters spread across the world . An article points out that in 2004, around 63% of the consumers chose food products promoted as low fat, and another 55% opted for foods low in saturated fat. Thanks, to the global media that people have become more conscious about what they eat. The article also pointed out that around 71% of the people check the fat contents of food product before purchasing it, compared to 40% who check the carbohydrate contents in food.
Here are top 10 global food trends:
1. Instant and quick fix: Instant noodles, Instant mix etc are some of the words, which largely influence our buying decisions. In today's world most of the people love to eat home cooked food, but they don't want to spend much of their precious time in cooking. So, they rely on instant fixes such as ready to cook foods, or packed spices, which allow them to enjoy home food without wastage of time.
2. Eateries serving "home cooked food": As said earlier that most people love to eat homemade foods, but the time constraints and thought of spending much time in kitchen encourages them to look for other viable options. Under such circumstances the daily dependence on hotel food becomes little pricier than expected. The culture of homemade food serving eateries is fast catching up in most of the Asian Countries.  These eateries model themselves as customer friendly places serving homemade foods and serve the food at cheaper prices.
3. Farm Friendly: Lot has been said about the chemicals used in vegetable culturing that drives people to choose organic and naturally cultured vegetables.  Over the years demand for organically cultured vegetables have quadrupled in this decade. Nowadays you can also taste organic flavored coffees too.
4. Flavors: Every day plethora of food items laced with different flavors is introduced in the market. The demand for such flavored products is on the rise more than ever.  Another big phenomenon is the demand for flavored waters, which has already spread like fire throughout USA. 
5. Competitive foods: The craze for "competitive foods" or vending machine generated food products never ceases to wane.
6.Probiotic Food products:  When Oprah in her article "Probiotics, the next big thing" projected Probiotic as the next big phenomenon the term caught more global attention than expected. It is believed that the sales for probiotic food products (especially dairy products) have tripled in Europe and America, since last 6 years, with the sales hitting $137.9 million and, $394 million in 2010.
7. Lighter food products: Traditional food items are often projected as heavy to stomach, so the demand for lighter products such as nutrition bars, energy drinks; diet bars have hit a new high.
8. Monitored diet: Diet monitoring trends are fast catching up with youngsters. They don't need to rely on nutritionists for seeking diet information; rather they only need to rely on blackberries or other software to keep tabs on their diet. So, there are lots of people out there who carefully count what they eat.
9. Fancy: Reuters life announced that "From truffles to caviar, fancy foods tempt U.S. consumers". The news further elaborated about how consumers are ready to pay high prices for these foods. The recent craze throughout U.S is vintage French Sardines by Mouettes d'Arvor,   which can be stored for 10 years. It's believed that more fancy food items will follow in the coming years.
10. Sugarfree- "Sugarfree"is one of the most popularly used buzzwords in the world today. There has been surge of food items under the sugar free label, due to an alarming rise in the number of diabetics around the world. The word "sugar free" depicts that you can gorge on sweets without worrying about sugar levels in blood.
The continuous change in food trends is due to the ever evolving nature of the global food concept.
Image Courtesy: unitybrandsgroup.com
Top 10 Global Food Trends