Soul of Taj
Cooking for Life and iFood.tv Present
World Chefs Cooking for Life is hosting a culinary event "Soul of Taj" in Agra, India.100 % of the proceeds from the event will be used to support Sankara Eye Foundation to help eradicate curable blindness by 2020 in India. The event is being presented in association with media partners and sponsors, iFood.tv.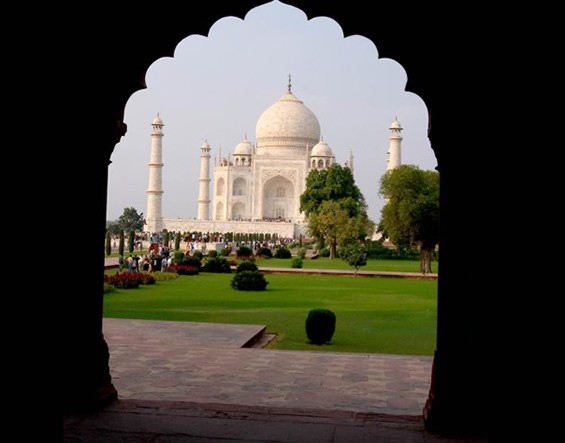 During the two-day event, from Feb 24th to Feb 25th, guests will enjoy dinner prepared by 20 chefs from all over India. The ingredients used will be from local markets of Agra purchased that day. In the city of the great Taj Mahal, guests will be entertained with Indian music and dance by local performers. A documentary showcasing the event will be filmed by production partners IM productions. More details of the event can be found at www.souloftaj.org and on this page.
"The Living Pyramids" was the first in the series of culinary events at Wonders of the World by Vikas Khanna. The first event was hosted at the Pyramids of Giza, Egypt on July 20th, 2006 to raise money and awareness for the needs of travelers with disabilities.
"Soul of Taj" is the second in the series of culinary events presented by World Chefs "Cooking for Life," a non-profit organization founded by Chef Vikas Khanna, whose mission is to bring the world together through food. He has received a number of accolades for his humanitarian work and was honored with the prestigious "Access to Freedom Award" from The Society for Accessible Travel and Hospitality (SATH). Past honorees include President George W. Bush and Prince Charles, The Prince of Wales.
Chef Vikas Khanna was the first professional chef to start his online cooking show on iFood.tv. iFood has organized and supports events which use food as a medium to promote a cause or to bring people. Last year iFood organized the unique Flavors Beyond Borders event on Aug 14th, 2007 bringing the Indians and Pakistanis to jointly celebrate their 60th Independence together over traditional food and music.
Stay tuned for more updates. iFood will bring exclusive pre-event clips and pictures from Agra starting Feb 3rd, 2008. Spread the message of this unique event and if you are IN or CLOSE to Agra, dont Miss out on a historic occassion in the shadows of the most beautiful monument on earth!!
Soul Of Taj