Real Food Festival Oakland, California This Weekend!
We're heading over to Oakland tomorrow for the first day of the second annual Real Food Festival.  This festival is all about real food, slow food, local food.  "Gourmet" or slow food is taking huge leaps here with "gourmet" food trucks  like  Seoul On Wheels to the Creme Brulee Cart-YUM!  Venga Paella is  at the top of our list to visit and EAT.  He has been featured on the Food Network in a Bobby Flay Thrown down......Bobby lost. 
Eat Real is a three-day celebration of the good and delicious food grown and crafted here in our region. It will showcase the best local street food, artisan beers and wines, cheeses, ice cream and all those good things, plus the ingredients themselves from regional farms. There also will be a lot of programming that  will provide some truly spectacular food craft performances—from butchery to noodle pulling—and an entire area dedicated to the ins and outs of urban homesteading (gardening, canning, preserving, etc). This event is help people to walk away fromthe  Eat Real event excited about all of the good local food options, and with new knowledge of how to use the power of their food dollars to support a regional food system.
The folks use local organic grown stuff!
"A dish that always brings people together"
 One of the purveyors is Steve Sando, founder and owner of Rancho Gordo, who is long time friend and member here on TomatoMania and WorldOnMyPlate.  Steve is teaming up with another purveyor, Baccalone to serve up a mean bowl of chili.  Can't wait to taste it!
Eat Real 2010
Eat Real will consist of 80 stands in Jack London Square. Qualifications for participation are simple: The food must taste good, as determined by the Eat Real staff. Bites will cost $1 to $5.
The festival includes live music, a literature festival and demonstrations, including a butchery contest that will pit two butchers against two pigs, a "great butter shakedown" that will gather crowd members in an attempt to break the world record in buttermaking, and slightly less theatrical events, such as jammaking and coffee roasting.
Replacing last year's not-so-successful farmers' market will be "Craft Collaborations," where producers pair with chefs or other producers to create dishes available only at the festival. Rancho Gordo Beans and Boccalone, for example, are collaborating to make a $3 chili.
"People will get to taste more premium products at an affordable price," Fernald says, "but there's also a broader educational goal of showing that a pack of beans can be turned into five $2 meals."
Read more: http://www.sfgate.com/cgi-bin/article.cgi?f=/c/a/2010/08/19/DDRU1ELBFB.DTL#ixzz0xkcZ0xmM
Steve orginally was growing only tomatoes to sell at local farmer's markets.  He started growing beans (to dry) for the off tomato seasons and that business has bloomed big time.  His first really "big" customer which snowballed was one of the finest chefs in the world, Chef Thomas Keller of the French Laundry.  A couple of years ago Steve wrote a wonderful book on Heirloom Beans,
The
Food Network
has even featured Steve's heirloom beans.  It is a fabulous book with amazing recipes and information.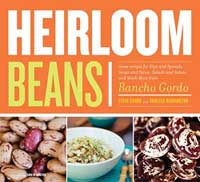 Want to know how to cook your beans:
If you are interested in making tortillas watch Steve here:
Now re Lorna Sass, well known author of Vegetarian cooking and also pressure cookery: