All-Vegan Menu in Chelsea Clinton's Wedding

2 Aug 2010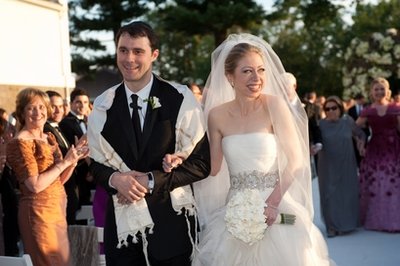 The super high profile wedding of New York was set all-green this weekend amid the throngs of paparazzi. It may sound "yuck" to some, but there was an all-vegan menu in former First Daughter Chelsea Clinton's wedding on Saturday. Hailed as this year's biggest wedding in New York City, the Upper East Side was all ears to the latest updates of the ceremony. Rumor has it that the couple splurged about $3 million on the occasion. 
Chelsea Clinton is all beaming, as she married her longtime boyfriend and investment banker Marc Mezvinsky on an estate in Rhinebeck, New York on Saturday. Being a vegetarian from the past 10 years, Chelsea actually decided to share her vegan eating preferences with over 300 guests. Apart from a giant gluten free cake, the menu also included some other vegetarian, vegan, and gluten-free dishes. Besides following a strict vegetarian diet, Clinton is also allergic to gluten. This is the reason, why they went for a gluten free vegan wedding cake. According to an Insider, "She always chooses her food on the basis of health benefits and personal preferences." However, to satisfy the meat lovers, they also doled out grass-fed organic beef. 
Certainly, this is not the first time that New York experienced a vegan wedding. You must remember the Ellen DeGeneres and Portia de Rossi's high profile marriage in 2008. They also served a delicious vegan feast to all the attendees during the wedding. The all-vegan menu in Chelsea Clinton's wedding is surely setting a new trend to follow. So, here's wishing all the veggie-best to the newly wedded couple! 
Image Courtesy: Yahoo.com
All-Vegan Menu In Chelsea Clinton's Wedding