Jackson County Apple Festival

30 Jul 2010
Come September, Jackson (Ohio), and you have the town celebrating the festival of apples. As a core production industry for many years in Ohio, the Jackson County Apples festival marks the culmination of the human spirit in synchrony with nature's bounty (apples) .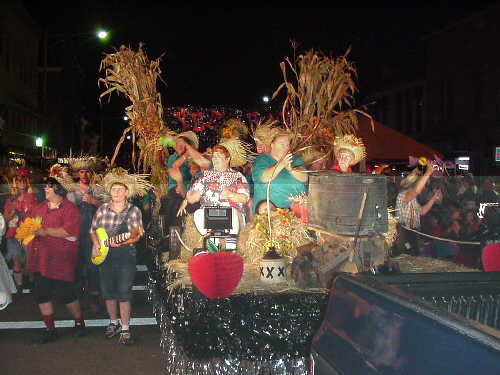 The festival this year will start on the 21st September and end on the 25th of September. The city of Jackson Tourism and Convention Center along with others are sponsoring the event to keep the thought, idea and concept in motion.

And here rolls the red-carpet of apples in varying hues of red to give you the royal welcome of a lifetime.

The events that mark the Jackson County Apple Festival are:

 
Contests
The food fest which sports a cooking contest that just cooks, smells and tastes apple from apple pies, apple cider, apple butter and a mélange of apple dishes made on the midway, which also steal the show.  There will be the apple-peeling show, Ice Cream Blizzard Eating Contest. And well, you can savor in the variety that will be offered in the food stalls.
The music bands
Jazz Band, Percussions, Majorettes, the James Kings band and others to add strings to the musical effect.
Craft and quilt show
Exhibits of craftsmanship in various craft works put up at the show and the conventional quilt show, demonstrating handwork and creativity threading in a unique symbolism of the fest.
Entertainment from Local talent
The Lip Sync Contest, the Striking Cobra School of Taekwondo, Wagon Wheelers - Square Dancers and many more in the line to keep you enthralled.
Apple Festival Queen and Court
Where young ladies from Jackson County in the age-group of 16 – 20 years will be competing for the coveted Queen and court honor of the Apple Festival. The already short listed candidates will be assessed by a panel of four judges. The winners will receive a cash award along with gift vouchers and prizes.
Children's corner
With a host of rides and contests( baby-crawling contest for babies greater than six months) for kids with something memorable to take back home.
The Little queen
Open for children in the junior group to epitomize the 2010 festival theme of Jackson County Apple Festival : "Apples, Queens and Children's dreams".
Parades
The Parades are the crowning glory of the Jackson County Apple Festival, a star-studded event, with celebrities 'lighting the show'. The annual school parade presents for the opening ceremony; and the grand finale culminates with the competing bands, the queens, the little queens and float judging etc.

If you want to explore the nature of the fest in its length and breadth, you could gather more information about the schedule of events and the mode of registration and other aspects from the official website of Jackson County Apple Festival - www.jacksoncountyapple.com

Jackson county Apple Festival 2010 is sure to be the apple of the world's eye as always, come September!
Photo Courtesy : jacksonapplefestival.com/
Jackson County Apple Festival