Amitabh Bachchan in India's biggest food fest
8 Dec 2007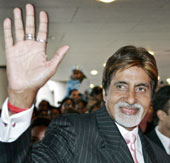 Mumbai, Dec 7: Megastar Amitabh Bachchan stole the show when he arrived at the venue of India's biggest food festival in Mumbai today.
Bachchan, himself a lover of delicious food, was seen unveiling a book and meeting visitors at the three-day Upper Crust Show 2007 that opened today at the World Trade Centre.
He hogged the limelight as everyone was seen jostling one another to catch a glimpse of the super star.
The Upper Crust Show is a fun extravaganza where one will find mouth-watering cuisine ranging from India to aboard.
So, wind up your work and join other food lovers at the World Trade Centre.
Source: saharasamay
Amitabh Bachchan In India's Biggest Food Fest