McDonald's Poisoning American Kids with Cadmium from Shrek Glasses
9 Jun 2010
The most screaming headlines in the fast food world these days is "McDonald's recalls 12 million Shrek glasses" because of the harmful levels of cadmium in them. The fast-food chain, that sells hamburgers, cheeseburgers, French fries, etc has had to recall one of its largest amount of products in the 70 years of its history, all because of cadmium.
The incident has not only posed a serious threat upon the health of American kids, who are today among the most prolific consumers of the fast food, but also on the lack of stringent measures on part of the fast-food chain regarding public health safety standards.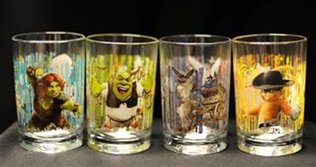 The health departments of the US and Canada had warned the restaurant chain of the harmful effects that cadmium might have on the consumers. The glasses, which feature the characters from the movie "Shrek," were painted and the paint was found to contain cadmium beyond its approved quantity. This enhanced amount of the metal might prove a health risk, the authorities said. While no injuries have so far been reported, the cadmium level in the glasses, though considered low, can lead to cancer, kidney or bone damage after long-term exposure.
The glasses were procured after McDonald's entered into an agreement with the producers of the film "Shrek" to promote the film through the merchandise. In fact, the McDonald's went beyond just recalling the millions of drinking glasses. The glasses were of 16-ounce capacity and were sold for $ 2 each at different McDonald's stores during the month of May and a few days of June too to promote the new movie.
The company has posted a Q&A page on its website, which contains some frequently asked questions and their answers along with general information about the matter. You can visit the page here.
In its press statement, issued right after the decision, McDonald's says:
"In collaboration with the Consumer Product Safety Commission (CPSC), and as a precautionary measure, McDonald's USA today issued a voluntary recall of its four Shrek Forever After™ glassware recently offered in its US restaurants. Customers should stop using the glasses and visit www.mcdonalds.com/glasses beginning June 8 for instructions on how to return them and get a refund."
Scott Wolfson, Director of the Office of Information and Public Affairs, CPSC, said:
"When the U.S. CPSC approached McDonald's about cadmium in their current movie-themed drinking glasses, the company responded quickly, agreed to cooperate fully and acted on the side of caution. The glasses have far less cadmium than the children's metal jewelry that CPSC has previously recalled."
(Photo Courtesy: googleimages)
McDonald's Poisoning American Kids With Cadmium From Shrek Glasses