Battle Creek Cereal Festival 2010
2 Jun 2010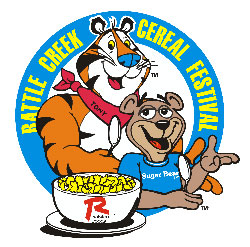 Battle Creek Cereal Festival 2010, will begin on June 11, 2010 and continue till June 12, 2010. Battle Creek Cereal Festival celebrates the history and rich tradition of the city of Battle Creek. The main highlights of the festival are Cereal Festival Parade and The World's Largest Breakfast Table, which take place on June 11th and 12th respectively. 
Battle Creek Cereal Festival 2010 Cereal Festival Parade will kick off on June 11, at 6 in the evening in downtown Battle Creek. Activities like kayaking, Community Garbage Sale, historical displays,climbing wall and a children's movie in Mill Race Park that accompany the main event make the entire festival much more interesting for one and all.
The World's Longest Breakfast Table is served from 8 a.m. to 10 a.m. in downtown Battle Greek. It is fun to watch when all the visitors pull together groups, walking units, strollers, bikes to participate in theWorld's Longest Breakfast Table, an entire day long family event held on June 12. Children decorate their bicycles, parents decorate their strollers and children dress as their choicest cereal character.
Battle Creek Cereal Festival 2010 will also offer a chance to various businesses, families or individuals to sponsor a table for the World's Longest Breakfast Table event. There will be as many as 151 tables, each of which shall represent a specific year of the City of Battle Creek. Every table will have a sign, which will depict the year that the table represents along with some historical facts and a message by the sponsor of that table. Those who wish to contribute or volunteer shall visit Hands On Battle Creek.
Image Credits: bcfestivals.com
Battle Creek Cereal Festival 2010