New Orleans' Tales of the Cocktail 2010
2 Jun 2010
New Orleans' Tales of Cocktail festival 2010 will be held between July 21-25 and it enters its eighth edition this year. Conceived in 2003, the "Tales of the Cocktail" is organized to celebrate the legendary tradition of cocktails in the city. 
The first true cocktail is believed to have been mixed in New Orleans way back in early 1800s when a pharmacist Antoine Amadee Peychaud poured a mix of stomach bitters and French brandy into double-ended egg cups called coquetiers. In fact, the name cocktail itself comes from the faulty pronunciation of the word coquetiers, which, though pronounced koh-kuh-tyays, was eventually pronounced like "cocktails."
Although, it has been just eight years in the running, the "Tales of the Cocktail" has become one of New Orleans' most favorite celebrations where patrons can come in and enjoy the various exotic incarnations of the cocktail. Whether it is scotch, gin, vodka, cognac, brandy or even the long-forgotten absinthe, everything is up for sampling. Popular drinks like the Absinthe Frappe, the Ramos Gin Fizz, the Hurricane, the  Hand Grenade and the Obituary Cocktail are up for grabs at a spate of events. From Seminars and lectures to tastings and more, the Tales of Cocktail just keeps getting bigger with each passing year.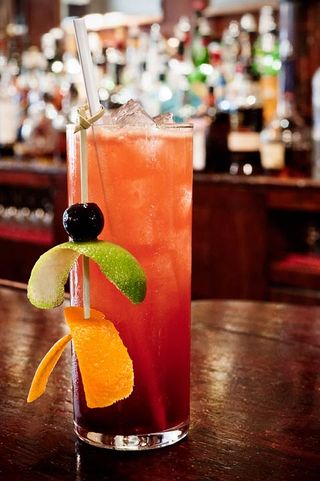 This year, the festival is being organized at different locations over a course of five days and some of the city's, as well as the country's, best-known mixologists will be there to create their own cocktail combinations and entertain the guests. Apart from the mixologists and bartenders, the occasion will also feature about two dozen restaurants from all over the city, showcasing their own range of cocktails.
One of the highlights of the Tales of the Cocktail is going to be this year's winning cocktail, Evan Martin's "Death in the South Pacific", which will be called the "Official Cocktail" of the festival. Martin, a Washington bartender, won out of more than 150 bartenders from all over the world. His drink features Appleton Estate Extra 12 Year Old Rum, Rhum Clement VSOP, Grand Marnier, Trader Tiki's Orgeat Syrup, Fee's Falernum, Fee's Grenadine and Cruzan Blackstrap Rum.
However, before you pack your bags to be at the New Orleans' Tales of the Cocktail festival, keep in mind a few things like advance hotel reservations, keep a track of special festival rates, gifts to be bought, events to be attended, etc. And to do all this, all you have to do is click here.
(Photo Courtesy: intoxicologist.files.wordpress.com, leisureblogs.chicagotribune.com)
New Orleans' Tales Of The Cocktail 2010