Obama Has Eyes Only For Wings, Pies, Cheeseburger
14 May 2010
US President Barack Obama is on a roll these days. Currently moving on his "White House to Main Streets" tour through US cities, the president seems to be having one hell of a time hopping from one café to another. So what if First Lady Michelle Obama wants him and the kids to avoid just that kind of food. The president hardly seems perturbed.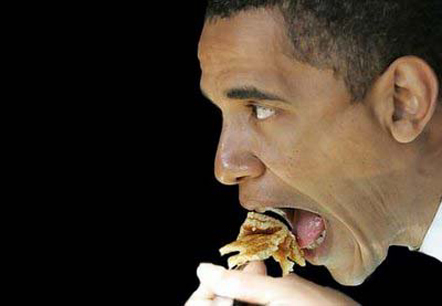 Here is an account of three different occasions on which Obama gave in to temptation and ordered food that his wife would never approve of:
He ate wings in Buffalo: While on a trip to Buffalo on May 13, Obama visited a local joint, Duff's Famous Wings and ordered some chicken wings to go. In fact, after ordering 10 medium wings and fries, Obama even obliged the local patrons, who suggested he change his order to five regular and five extra crispy wings. Duff's Famous Wings is considered to serve one of the finest wings in the area. The total bill he paid for the order came to $ 14.90.
He Loves to eat pies: This is something that was revealed on the Tonight Show recently by White House senior adviser David Axelrod. Axelrod spoke about Obama's fetish for pie and how the president needs to be separated from his pies sometimes. As if to prove his political confidante right, Obama was seen in a Mount Pleasant restaurant, Jerry's, ordering a pie for himself. This was just four days after Axelrod made the revelation on TV. The president ordered pie and insisted on being served old coffee. When a little girl asked him later what pie he ate, Obama said unperturbed, "Rhubarb pie, and it was some tasty pie." The president even managed a joke on himself, when he further added, "By the way, some of you heard that my cholesterol went up? It's because of pie."
First pie, then a cheeseburger: This happened just a day after his encounter with the pie in Iowa. Obama stopped by at Peggy Sue's Café in Monroe City and ate a cheeseburger for lunch. Yes! a cheeseburger, with lettuce, tomato mustard and fries. As he asked an unfazed waitress, "I don't think you just have cheeseburgers?" The young lady replied, "Yes we do." Then it took Obama just a minute to place his order, which he enjoyed fully even as the onlookers watched.
Wonder what the First Lady would have to say about this tour!!!! May be she would just pack off the White House pastry chef and put the President on a strict diet after the tour is over.
(Photo courtesy: yournews.com)
Obama Has Eyes Only For Wings, Pies, Cheeseburger