Wendy's – the best fast food joint in America
19 Apr 2010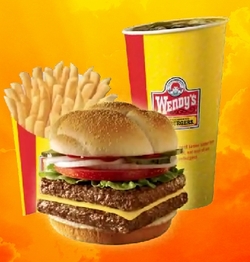 Off late Wendy's was adjudged the best fast food join in America. Upcoming trends do not only hit the fashion industry but several others as well. Wendy's is the latest emerging trend in America's fastest growing fast food chains. From onion rings to double cheeseburgers, everything at Wendy's has its own mark. And the popularity continues to expand...
Wendy's delicious junk food can make all ages fall for it. And its price tag? Oh, it's affordable! The real value meal combos are bestsellers at Wendy's. The Double Jr. Cheeseburger Deluxe combo is comprised of hot and juicy burger stuffed with fresh and never frozen beef from North America which is topped with fresh and crisp toppings including thinly cut onion slices, red ripe tomatoes, dill pickles, hand leafed lettuce and American cheese of course.  You will feel all the flavors blending in your mouth as soon as you take the first bite. 
Yet another hot favorite combo is the Crispy Chicken Deluxe combo. The meat chicken patty along with applewood smoked bacon, mayonnaise, hand leafed lettuce, American cheese and tomato is mouth-watering.  
Apart from the combos, hamburgers, beverages, salads and frosty are simply irresistible. Wendy's is alike a full flavored fiesta in your mouth.
Wendy's – The Best Fast Food Joint In America