Win Alice Waters Newest Book-autographed just for you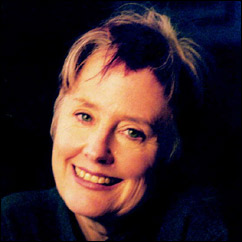 Alice Waters is considered the forerunner of waking Americans up to sustainability and healthy eating. 
Alice is one of the best-known and most influential American chefs since the 1970s, is credited with single-handedly creating a culinary revolution in the United States. She is the founder and co-owner of Chez Panisse, the original "California Cuisine" restaurant in Berkeley, California, as well as the informal Cafe Fanny in West Berkeley.
 A champion of locally-grown and fresh ingredients, she has been credited with creating and developing California Cuisine and has written or co-written several books on the subject, including the influential Chez Panisse Cooking (written with then-chef Paul Bertolli). She has also promoted organic and small farm products heavily in her restaurants, in her books, and in her Edible Schoolyard program in the public schools. Her ideas for "edible education" have been introduced into the entire Berkeley school system, and with the current crisis in childhood obesity, have attracted the attention of the national media.
Waters advocates eating locally produced foods that are in season, because she believes that the international shipment of mass-produced food is both harmful to the environment and produces an inferior product for the consumer.
Her newest book was just releashed this month, The Art of Simple Food: Notes, Lessons, and Recipes from a Delicious Revolution (hardback) Priced at $35* reviews at the end after the food trevia questions.
First person to answer all the questions acurately is the winner defined bysystem generated  time and date stamp.  If no one answers all correctly, the person answering the most questions accurately will win.  In case of tie Bonus question answer decides the winner.
Contest over October 31, 2007 midnight New York Time
West Coast US time 9 PM (PDT) October 31, 2007
London 5 AM (GMT) Nov 1, 2007
 India 8:30 AM (IST) Nov 1, 2007
Good Luck to you all - this is a fabulous book, a must have fo all.
 1.  Of all vegetables, only two can live to produce on their own for several growing seasons. All other vegetables must be replanted every year. What are the only two perennial vegetables?
2. What fruit has its seeds on the outside?
 
3.  In many liquor stores, you can buy pear brandy, with a real pear inside the bottle. The pear is whole and ripe, and the bottle is genuine; it hasn't been cut in any way. How did the pear get inside the bottle?

4.  Name the only vegetable or fruit that is never sold frozen, canned, processed, cooked, or in any other form except fresh?
5.  What citrus fruit is named after a human body part?
6.  What is the common name for roasted buckwheat groats (or a
porridge made from them) in Eastern European countries?
7. Native to South and Central America, I was only introduced to Europe after Christopher Columbus's voyage to the New World. Commonly thought to be a vegetable, technically I am a fruit. I am very nutritious, containing vitamins A and C, and there is some evidence that eating large quantities of me may help protect people against certain cancers, such as cancer of the stomach. Nonetheless, my acidic taste (more pronounced at that time) meant that I was slow to be accepted throughout the Old World. What am I?
8. What country consumes the most wine per capita?
9. What is the most common ingredient used in cooking.
10.  Bonus Question  (tie breaker)  Grown around the world for millions of years, this tree that has the distinction of being the world's oldest living-seed plant. A poem by the famous German poet Johann Goethe pays tribute to the distinctive appearance of my leaves. However, the Chinese were the first to discover my medicinal properties. I am considered to be symbolic of good luck, and you will frequently find my kernels painted red and used in decorations at Chinese weddings. What am I?
*decision of the judges is final
**There is only one correct answer for each question
***Questions and answers will be posted after Nov. 1, 2007 when winner has been chosen and announced. From Publishers Weekly
Starred Review. The delicious dishes described in the latest cookbook from Chez Panisse founder Waters, such as a four-ingredient Soda Bread and Cauliflower Salad with Olives and Capers, are simple indeed, though the book's structure is complex, if intuitive. After a useful discussion of ingredients and equipment come chapters on techniques, such as making broth and soup. Each of these includes three or four recipes that rely on the technique described, which can lead to repetition (still preferable to a lack of guidance): a chapter on roasting contains two pages of instructions on roasting a chicken (including a hint to salt it a day in advance for juicy results), followed by a recipe for Roast Chicken that is simply an abbreviated version of those two pages. The final third of the book divides many more recipes traditionally into salads, pasta and so forth. Waters taps an almost endless supply of ideas for appealing and fresh yet low-stress dishes: Zucchini Ragout with Bacon and Tomato, Onion Custard Pie, Chocolate Crackle Cookies with almonds and a little brandy. Whether explaining why salting food properly is key or describing the steps to creating the ideal Grilled Cheese Sandwich, she continues to prove herself one of our best modern-day food writers. (Oct.)
Book Description
Perhaps more responsible than anyone for the revolution in the way we eat, cook, and think about food, Alice Waters has "single-handedly chang[ed] the American palate" according to the New York Times. Her simple but inventive dishes focus on a passion for flavor and a reverence for locally produced, seasonal foods.


With an essential repertoire of timeless, approachable recipes chosen to enhance and showcase great ingredients, The Art of Simple Food is an indispensable resource for home cooks. Here you will find Alice's philosophy on everything from stocking your kitchen, to mastering fundamentals and preparing delicious, seasonal inspired meals all year long. Always true to her philosophy that a perfect meal is one that's balanced in texture, color, and flavor, Waters helps us embrace the seasons' bounty and make the best choices when selecting ingredients. Fill your market basket with pristine produce, healthful grains, and responsibly raised meat, poultry, and seafood, then embark on a voyage of culinary rediscovery that reminds us that the most gratifying dish is often the least complex.
About the Author
Named the most influential figure in the past 30 years of the American kitchen by Gourmet magazine, ALICE WATERS is the owner of Chez Panisse restaurant and the author of nine cookbooks.
Just respond to shantihhh!
Win Alice Waters Newest Book-autographed Just For You