The Whole Enchilada and a Lot of FUN! (Tomato Fest 2007)
The Whole Enchilada, Moss Landing, California
Fiesta of Flavor
Chef Luis Solano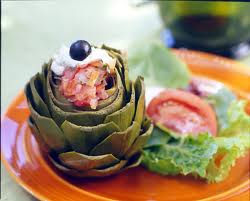 Bordering a marina and vegetable fields in Moss Landing, California, The Whole Enchilada serves buoyantly fresh seafood and produce. Luis works closely with wife Kim's parents, Ray and Jan Retez, who own the restaurant. But even when he's not cooking, Luis' hands constantly move as they pantomime stirring and flipping. He gives rapid instructions to his crew, switching languages in one breath. When the words trip off his tongue, listeners can almost taste tartly sweet pomegranates, ripe avocados. "The food has to be colorful," he says. "The flavors have to be bold."
That's the mantra of a new generation of cooks that has updated Mexican fare, deftly blending age-old recipes with new technology. "My mother, a chef on TV in Guadalajara, did things the traditional way," says Luis. "Cooking was her passion."
Today, devoted family and friends join to sample the fruits of his labor. The group mingles and sips margaritas on the patio, where a combination of nautical elements and folk art encourages relaxation. "We wanted to give it a maritime flavor—to create the atmosphere of scuba diving," says Luis. "The way light filters through the water, that's how light streams through this arbor." With vibrant tropical decor and palms sprouting from the floor, the patio evokes the feel of a beach cantina. "I believe in color and ambience, that what surrounds you affects you psychologically," says Luis. "It's very difficult to be quiet here. People come here to have fun."
Fun is one thing this family does well. "It's always been a tradition to take a shot of tequila at the beginning of each meal," says Luis. "When I was younger, my father [a tequila manufacturer] would quiz us on the flavor. Is it spicy? Balanced? Most Americans just throw it back. No! That is not the way." Luis splashes the amber liquid into glasses and passes them around. After an exuberant toast, the adults savor the slightly peppery tequila.
As everyone digs into sesame-crusted halibut, debates spin around the table over sports, local politics, and, of course, food. Where to get the best organic basil? How much onion to put in guacamole? Whatever the subject, conversations typically veer into spontaneous laughter. "It's very hard for me to control them," jokes Luis. "I used to be the outlaw, now I'm the sheriff."
At the end of the meal, Luis and his son, L.A., pull out their guitars. "You do a little," says Luis. The teen sweeps his hair across his brow and shyly begins to play. Bobbing their heads in unison, father and son look each other in the eyes and smile.
Luis, through his music, cooking, and humor, holds the bunch together. "He keeps us close," says Jan. "That's one thing I love about Latin culture—family is everything."
Tequila Time
Luis honors his father's profession, tequila manufacturing, at The Whole Enchilada. He offers a well-stocked bar and friendly advice on what to sample. "There are so many boutique tequilas coming out now," he says. "But for the best, you go to the people who've been making it for hundreds of years. It has to be bottled in Mexico, 100 percent agave." Sauza Hornitas is ideal for traditional margaritas. For straight sipping, Luis suggests Cazadores Reposado, a solid, peppery tequila. He's also a big fan of Herradura. Whatever the choice, he cautions against liquors that use molasses to increase the alcohol and darken the color. Luis says, "That's what goes to your head and makes Montezuma mad."
from The Whole Enchilada Website - Sarah Brueggemann, Styling by Julia Dowling Rutland, Photography by Ralph Anderson, courtesy of Coastal Living Magazine
The next ime you are driving down the California Coast on highway 1 headed south towards Monterey from San Francisco, a few miles South of Santa Cruz be sure and stop in for amazing food prepared by Chef Luis Solano's exciting cuisine and be ready for some fun at
The Whole Enchilada
Highway One and Moss Landing Road

Moss Landing, CA 95039
831-633-3038
Image credits- 32above.blogspot.com, offthemenublog.wordpress.com, myamericandram.wordpress.com, anotherwineblog.com, pennystones.com, ifood.tv/photos
The Whole Enchilada And A Lot Of FUN! (Tomato Fest 2007)