25 iFood.tv members will win Amazing 7 Minute Meals Book
5 Oct 2007
25 iFood.tv members received the printed book
"Amazing 7 Minute Meals" free, if you
tell me why you need my book too, I will send you
my e-book version.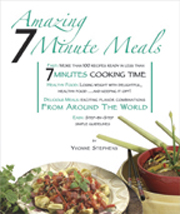 My "Stir-Fry Diet" is a healthy alternative to trendy weight loss plans, and the book is free – a gift from me to you – if you can convince me you need it the most.
Just write a comment or send me a message explaining why you need my e-book

An estimated 129 million Americans or 64 percent of the U.S. population is overweight or obese, reports the Department of Health and Human Resources. Many say that the diet industry is to blame for America's expanding waistlines as the lucrative market for obesity fighting products and services (banking over $100 billion a year) continues to grow, offering a virtual menu of fix-its from controversial new diet drugs to celebrity diets to extreme surgeries.
After a long battle with bulimia and experimentation with every fad diet on the market, I realized the underlying reason why many people spend more time and money on diet plans and fast food than in their own kitchens – lack of time and energy. Because an active lifestyle combined with healthy eating is the only way to lose weight and maintain weight loss, I introduced a homegrown approach to eating for today's dieters. The only items needed for her plan, the "Stir-Fry Diet", are pre-cut ingredients, a wok (or skillet) and seven minutes.
The recipes are from all over the world; can be prepared in a large skillet or wok, and the ingredients are available at your regular grocery store.
From more information about losing weight with healthy food, check my website:
www.chefyvon.com
Endorsement
'Amazing 7 Minute Meals' is the Holy Grail for life long dieters!
Fresh ingredients, whole foods, and an overall low glycemic index. The book is a giant step forward in our fight against the epidemic obesity. Bravo! You have provided us with a way to eat for life! - Cristopher P. Diguillio, M.D.
25 IFood.tv Members Will Win Amazing 7 Minute Meals Book