Vegan take on Super Bowl: The Great Squash Cook off at the V-spot Cafe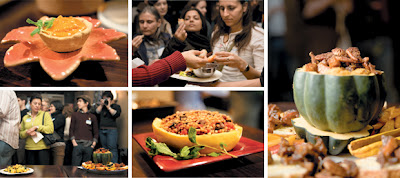 Not every one was watching the Super Bowl last night. Infact some people had even better ideas. The Intuitive Cook, Ameet Maturu, a holistic health counselor and Danny, the owner of the much talked about V-SPOT vegan cafe in Brooklyn organized the Great Squash Cook-off to promote seasonal and healthy cooking, featuring the vegetable squash (read Ameet's take on why he chose squash?).
The cook-off was a great event with 20 chefs presenting some really creative and ofcourse delicious recipes ranging from soups to entrees and even desserts. The event was honored by the presence of 4 great judges who gave away some 5-6 prizes along with the grand prize of $200 for the best recipe. ifood.tv got the scoop and filmed the entire event. Our footage includes interviews with all the 20 contest partcipants, the judges, organizers and the sampling audience. We will keep adding videos in the next 1-2 days.
Needless to say we all had so much fun, food, made new friends and as ifood.tv's glamorous host Sherry 'Ass Kickin' Hwang put it "We got really squashed out by the end of a great evening" Cook-off Recipes vying for the Top Squash Honors All made with love from kitchens in and around Brooklyn Soups/Stews Cream of Butternut Squashwith ginger, fall herbs and non-dairy creamThai Butternut Squash Soupwith red curry, spinach and tofu Three Sisters Stewfeaturing heirloom Iroquois corn, beans, and butternut squashWinter Squash Soupwith acorn and butternut squashes, cinnamon, nutmeg and cloves Entrees/SidesBaked Stuffed Acorn Squash with brown rice, mushrooms, walnuts and dried fruitsCider Glazed Squash with Greens Audience Award Winner featuring roasted butternut squash, garlic, sage and greens with reduced apple ciderNew England Autumn Medleyfeaturing pan-roasted butternut squash, brussel sprouts, purple potatoes, and applesPomegranate Squash with olive oil, garlic, and pomegranate syrupRaw Butternut Spaghettiwith sun dried tomato sauceSpicy Roasted Squashwith cilantro, lime, chili peppers, and nutsSquash Amsouthern style, featuring butternut squash, yams, collards, kale and turnipsSquash Salsafeaturing shallots, ginger, and cayenne pepperSquash Stuffed Mushroomswith butternut squash, leeks, roasted chestnuts and herbsStuffed Spaghetti Squashwith couscous, portabello mushroom, tomato and basilThai Squash Curry (Gheng Fuk Tong)in red curry with pineapple, tofu, and basil over brown riceWinter Squash Risottofeaturing butternut squash and homemade vegan cheeseDessertsButternut Persimmon Puddingwith maple syrup, cinnamon and gingerIndian Winter Squash Halwafeaturing cashews, raisins with aromas of cardamon, cinnamon, and nutmeg Squash and Cherry BakeWinter Squash Pie(Grand Prize Winner)features organic winter squash over whole grain crust Meet the Judges  
Abhaya Kaufman Is a food & yoga enthusiast and writer working with GRUB: Ideas for an Urban Organic Kitchen.   KalaLea Is the co-owner and manager of smooch, an organic cafe and wine bar located in Ft Greene.    
Vikas KhannaIs the owner and consultant for some of the top Indian restaurants in New York City.   Isa Chandra MoskowitzIs the author of the book Vegan with a Vengeance and co-host of the public access cooking show The Post Punk Kitchen.  
Meet the Organizers Ameet Maturu, Producer and Host Is the founder of The Intuitive Cook, a holistic health counseling practice based in Park Slope. He supports young professionals in achieving balance through food, nutrition and lifestyle guidance.     Danny CarabanoIs the owner of The V-Spot , a vegan restaurant in Park Slope. He is committed that you eat your fruits and vegetables. More so than most.
Image Credit: cookinbrooklyn.blogspot.in
Vegan Take On Super Bowl: The Great Squash Cook Off At The V-spot Cafe