Run Up To The Tomato Fest 2007

Just One Week Until Tomato Fest 2007


photo courtesy of Gary Ibsen, www.TomatoFest.com

This annual event promises to be the best of the best. Gary Ibsen has 60 Chefs and 40 wineries presenting award winning food and wines for your enjoyment in one of the most beautiful spots on earth - Quail Lodge Golf Course, Carmel Valley.

Steve and I will be there filming the exciting mouth watering offerings exclusively for iFood.TV in just one week. WOW, it is so exciting just reading of some of the chefs menu offerings and we are arranging for many of these mouth watering recipes to be here on iFood.TV exclusively for you!

Are you ready to dance, eat sip some wine or beer, and enjoy?

http://www.ifood.tv/node/12750

Here are just a few of the offerings of the participating 60 of the top chefs!

• Colin Moody, Asilomar Conference Grounds, Marvel Stripe & Green Zebra Tomato Sorbet on a Ginger Cone Avocado "Faux Gras" with Heirloom Tomato Chutney & Dungeness Crab Toast


• Jim Gallivan, Atlantic Culinary Academy- Le Cordon Bleu,NH, Chilled jerked Tomato & Peach Bisque with Banana Lime Cream -


• Dory Ford, Bon Appetit at the Monterey Bay Aquarium, Lemony Tomato Tart, Brandywine Tomato Tartare, Green Zebra Tomato Coulis

• Nate keller, Cafe 150 at Google, Tomato Sundae with Sweet Maui Onion Syrup,


• Michael Keller, California Culinary Academy, Tomato & Goat Cheese Tart Tatin with Basil Sorbet

• Jeff Mosher, Julia's Kitchen at Copia, Braised Napa Valley Lamb with Tomato Confit and Summer Squash


• Cal Stamenov, Marinus @ Bernardus Lodge, Heirloom Tomato Sorbet with rock shrimp tartare and cilantro


• Eric Tucker, Millennium, Crisp Papadum with Green Grape and Canary Mellon Salad with Tomato Tamarind Chutney


• Mark Ayers, Pacific's Edge at the Highlands Inn, Dungeness Crab Salad, Heirloom Tomato Sorbet, Sesame Tuille, Yuzo Vinagarette


• Philippe Breneman, Paragon Restaurant & Bar, Heirloom Tomato Gelee, Manchego Custard & Crispy Pancetta


• Arturo Moscoso, Peppoli Restaurant @ Inn at Spanish Bay, Decomposed Caprese with Tignanello Olive Oil


• Jacques Wilson, Sardine Factory, Heirloom Tomato Shrimp & Corn Fritter with Tomato Oil, Avocado Creme Fraiche


• Craig Von Foerster, Sierra Mar @ Post Ranch , Thai Golden Tomato Gazpacho Crostini of Serrano Ham, Manchego Cheese and Cherry Tomatoes -


• Patrick DuRant, Stillwater Bar & Grill at the Lodge at Pebble Beach, Toybox Tomato-Orange Chutney with Lump Blue Crab


• Peter Pahk, The Royal Oak @ Silverado Resort , Vichysoisse with Concasse of Heirloom Tomatoes


• Luis Solano, The Whole Enchilada, Shrimp Shooter With Avocado and Tomato Seven Seas Bisque


• Robert Sapirman, Parcel 104, Heirloom Tomato Tots (Crispy Potato in Crusted Tomato Gelee)


• Jason Balestrieri, Cantinetta Luca, Heirloom Tomato Bruschetta with Shaved Tuna Bresaola

The award winning chefs include these:

http://tomatofest.com/hall-of-fame-awards.html

And what about if you get thirsty?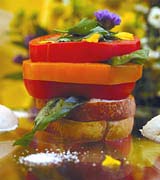 Tomato & Tuscan Bread Tower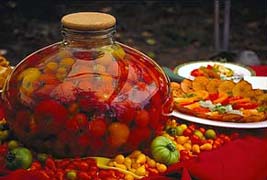 Heirloom Tomatoes and Seeds


Tomato Consommé

Heirloom Tomatoes are of history and the taste is timeless.