TOMATO FEST 2007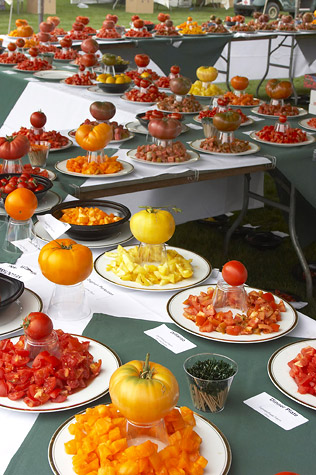 Photo Courtesy of Gary Ibsen, TomatoFest.com
Hundreds of heirloom tomatoes to taste!
Many people think tomatoes are always red. Heirloom tomatoes come in a rainbow of colours-red, yellow, orange, purple, black, pink, green, cream, bi-colours nd even white. Each one has a different flavour. Some are fruity and sweet while others have a boing to them.
60 Top chefs offer palate pleasing tomato-dishes
The offerings are amazing masterpieces to behold and fill your mouth with exciting flavours. These are not a smear of roasted tomatoes on a piece of bread these are culinary offerings at their finest.
Sounds wonderful-doesn't it?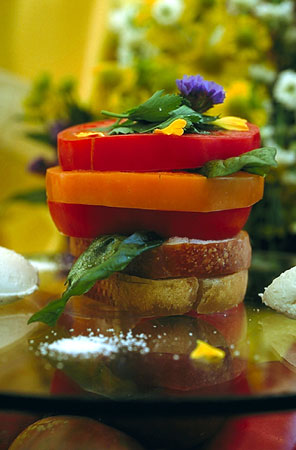 Tomato Bread Tower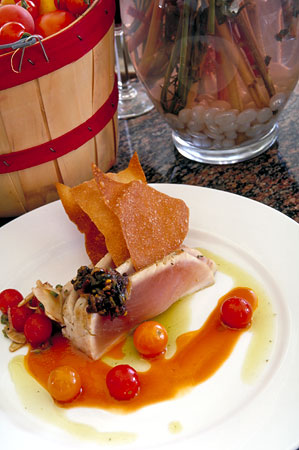 Photo Curtesey of Gary Ibsen, TomatoFest.com
Cognac Sturgeon & Fried
Heirloom Tomato
Jazzfood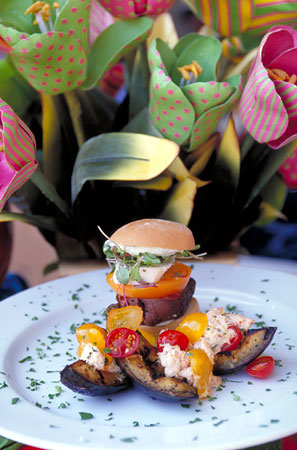 Photo curtesey of Gary Ibsen, TomatoFest.com
Hillbilly Tomato Bleu Burger
with Dungeness Crab
Todd Fisher,
Hullaballoo
Photo curtesy of Gary Ibsen, TomatoFest.com
Dozens of California premium wines will be poured
For tickets:
tomatofest.com
Ticket price includes all foods, wines and activities. Children under 12, with parent, are admitted free. Come bring the whole family! We have delights for the kids too. Net proceeds benefit youth charities. Thus far the Carmel TomatoFest® has donated more than $210,000.00 to local, regional and national charities to benefit children.